2020: A Year In Sexual Health
To say 2020 has been an interesting year would be an understatement. The COVID-19 pandemic has impacted every aspect of our daily lives and that includes sex. 
In a year where the most popular destination for a Tinder date has been Zoom or (if you're lucky) a park bench, we thought it would be worth investigating how our attitudes towards STDs and sexual health have changed. To research this, we analysed over a thousand popular Google search terms relating to sexual health to see if we could spot any trends. Here's our top 10 most interesting findings.
The first lockdown halved STD related searches
Our inability to get out and about during the first national lockdown had a massive impact on people searching for STD services. Fewer people searched for anything relating to sexual health testing and sexual health clinics. Searches relating to STD clinics halved during April 2020, whilst searches relating to STD testing were at the lowest point for the last two years.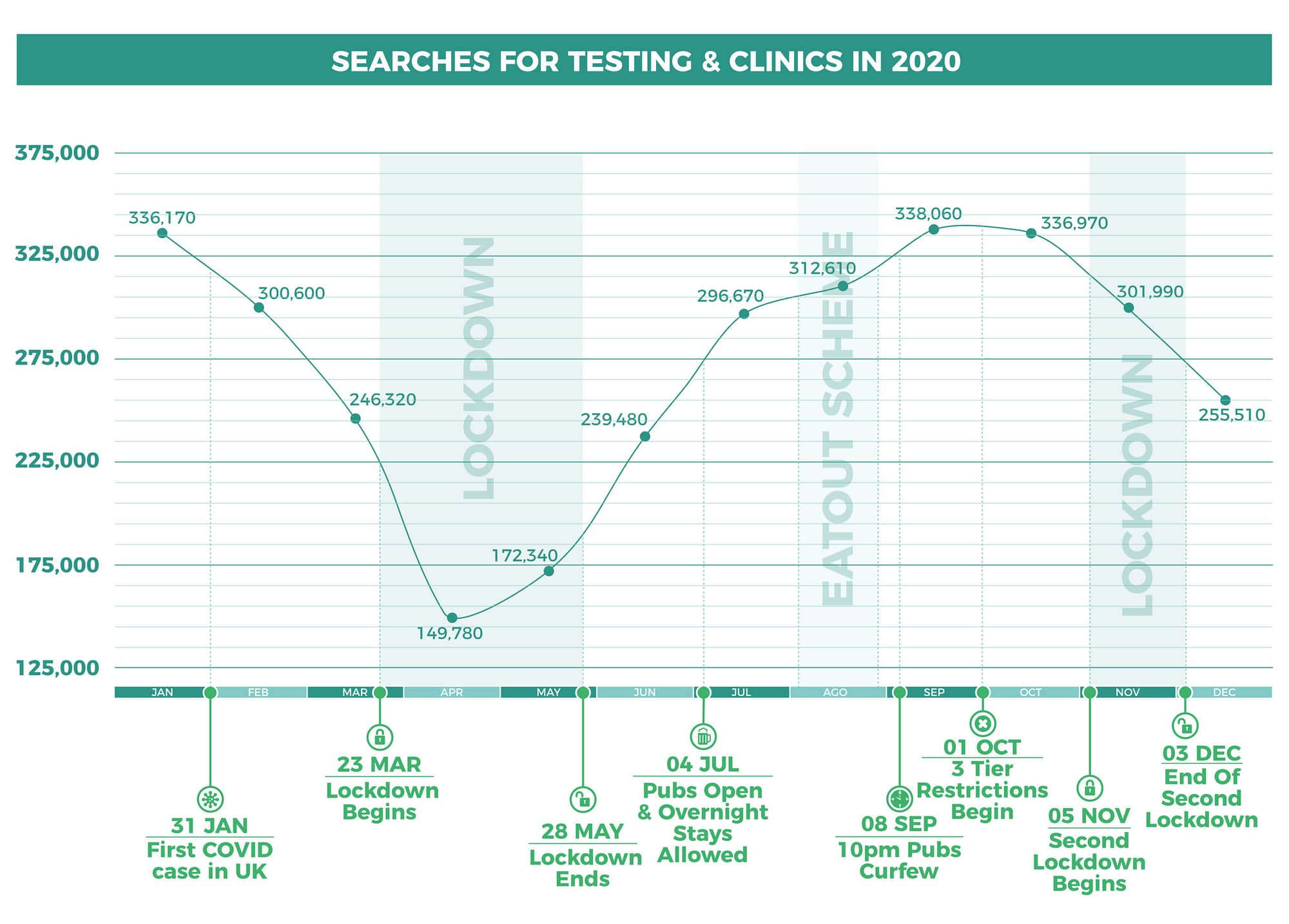 There was a surge in demand once the country opened up
When clinics and the rest of the country returned to normality, demand for STD testing and sexual health clinics surged. By the time of the second lockdown, demand had reached record levels according to search data. 500% more people were searching for STD clinics in comparison to April 2020 and demand for testing had increased by 50%. Paul Marks, Director of Your Sexual Health, believes this could have been caused by people being made to wait for testing during lockdown. He said: "With clinics closed and on reduced hours throughout lockdown, there was likely to be a pent up demand for testing. Many of these people could have been living with STDs, going untreated throughout this time."
The second lockdown had another massive impact on sexual health
Just like the first lockdown, November's closures brought the numbers of people searching for STD testing right down. The fact that this occurred in what is usually a very busy time for STDs to spread could mean there are lower STD rates for some time to come.
Dr Rashid Bani, Clinical Director of Your Sexual Health said: "December is a time when people usually let their hair down. Increased alcohol consumption and more opportunities to socialise lead to people being more sexually active throughout this time of year. Obviously things were very different during 2020 and we as a result we may see a positive impact on STD rates during 2021."
Fewer symptoms of STDs
Throughout the summer months, interest in the symptoms of STDs was much lower than the previous year and lower than the start of the 2020. During the first lockdown many public health bodies said the restrictions presented an opportunity to reduce the prevalence of many STDs. There's little public health data available yet to show whether this occurred, but this search data could show the lockdown was partially successful in reducing STDs.
The success doesn't seem to have lasted long
Although STD symptom searches were at their lowest during the summer months, by the time of the second national lockdown, searches were back to previous levels. Was this a sign people were taken social distancing less seriously or were a lack of STD testing options to blame due to COVID restrictions?
Let's talk about syphilis
Syphilis rates have been on the rise in the UK over the last few years. This rise in incidence is reflected in search figures, with more people searching for information on the STD over the course of the last two years. However, although more people continue to search for information on syphilis in 2020, the lockdown seemed to have slowed down this trend until the end of summer. Nevertheless, Syphilis continues to be the fastest growing STD in the UK. The chart below shows a comparison between STD searches compared to the previous years.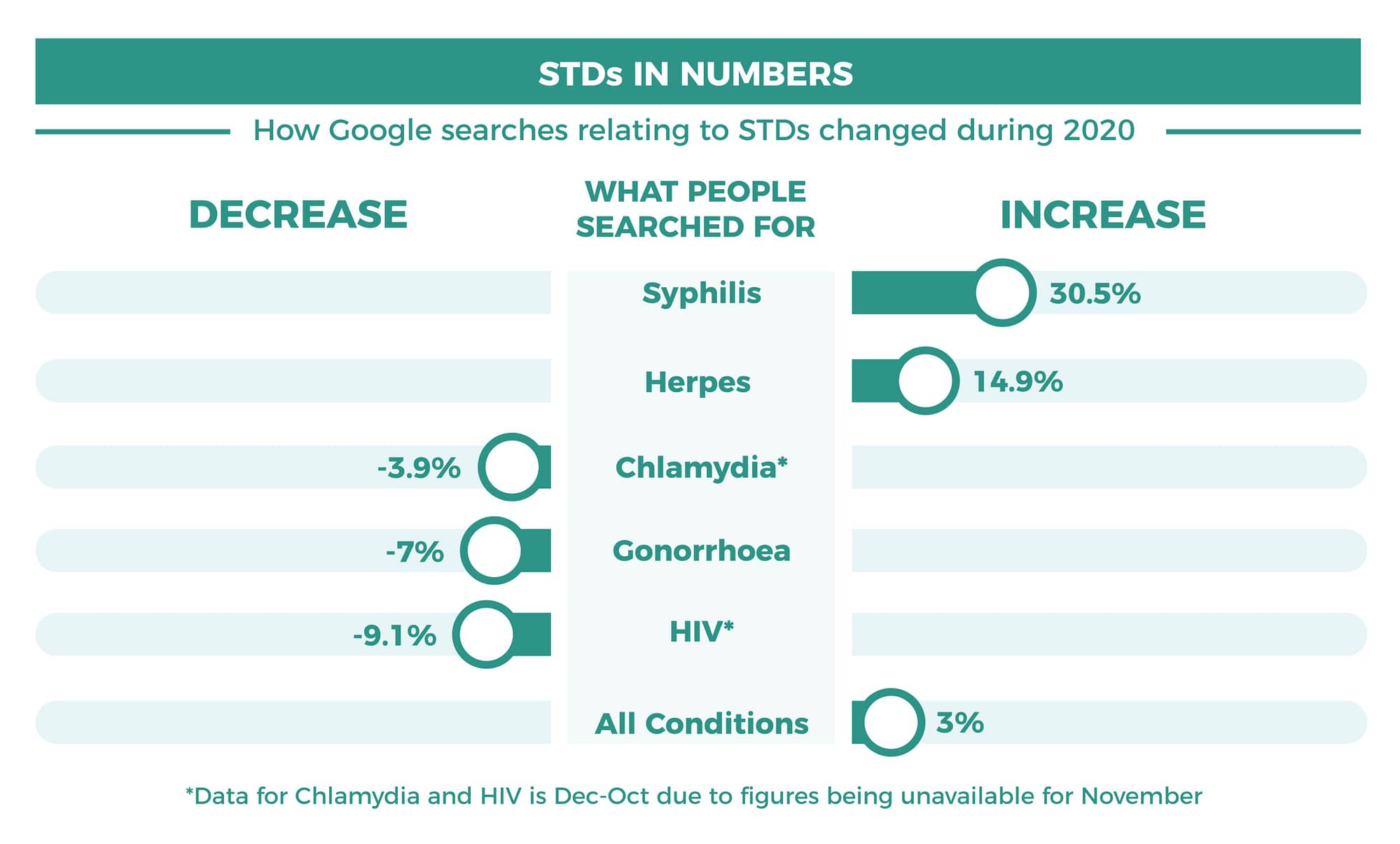 Interest in Gonorrhoea is down
Gonorrhoea is the second most common STD in the UK, but less people showed an interest in it this year. Gonorrhoea is typically an STD that spreads amongst younger people and a lack of dating and hook-ups throughout the year may have helped slow the spread.
Unpleasant symptoms are on the rise since lockdown
Discharge, blisters and rashes, and pain whilst peeing are all common symptoms associated with sexual health diseases. It seems these were causing people less of a problem during the lockdown, but they've been on the rise since. Are more people turning to Google for answers rather than visiting clinics themselves?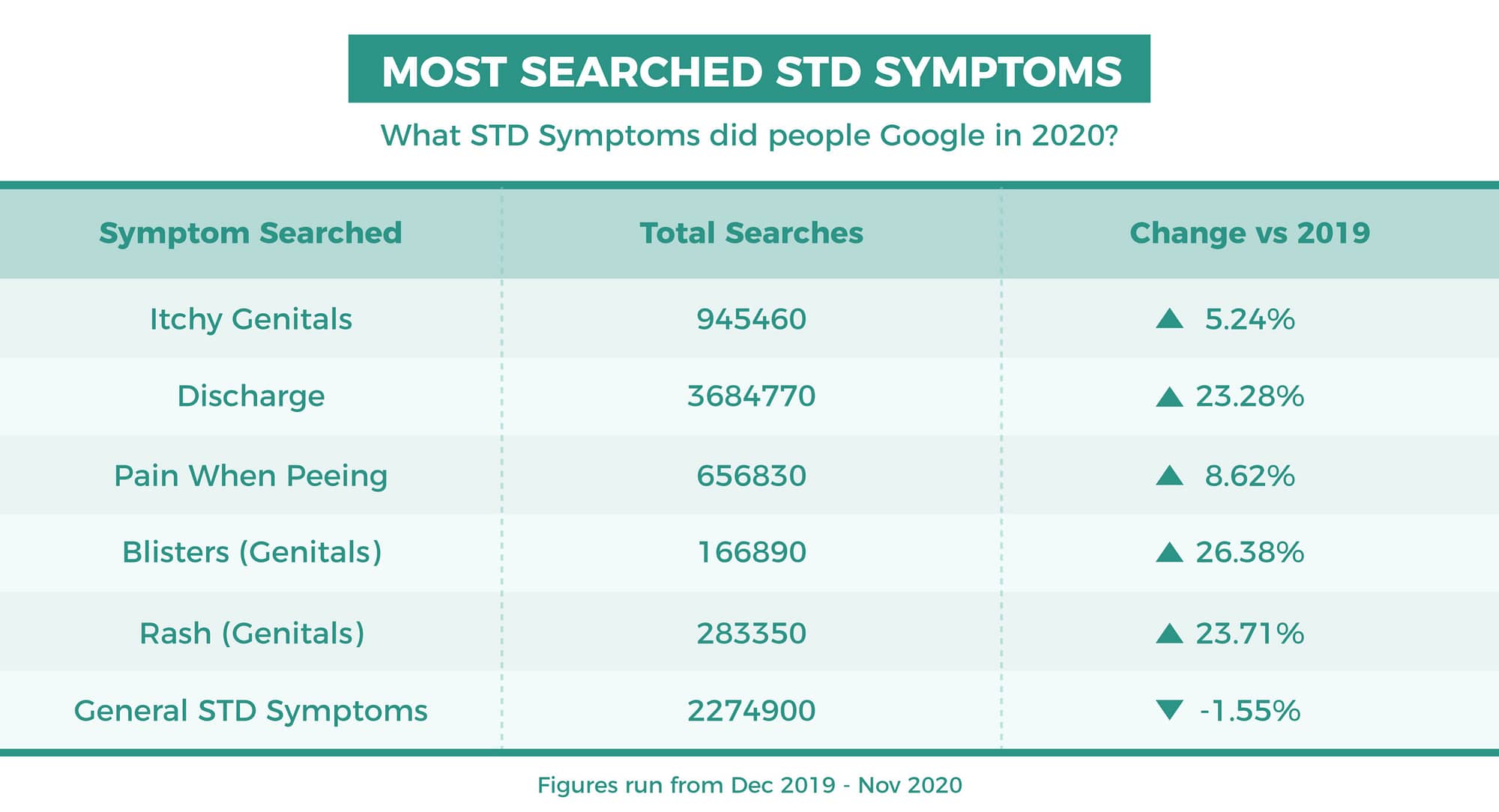 Condom Use
Despite online searches for condoms increasing over the 15 months previous, it's unsurprising that interest dropped during lockdown. Once things returned to normal, we saw demand increase, and there was actually a 17% increase in people searching for condoms during 2020.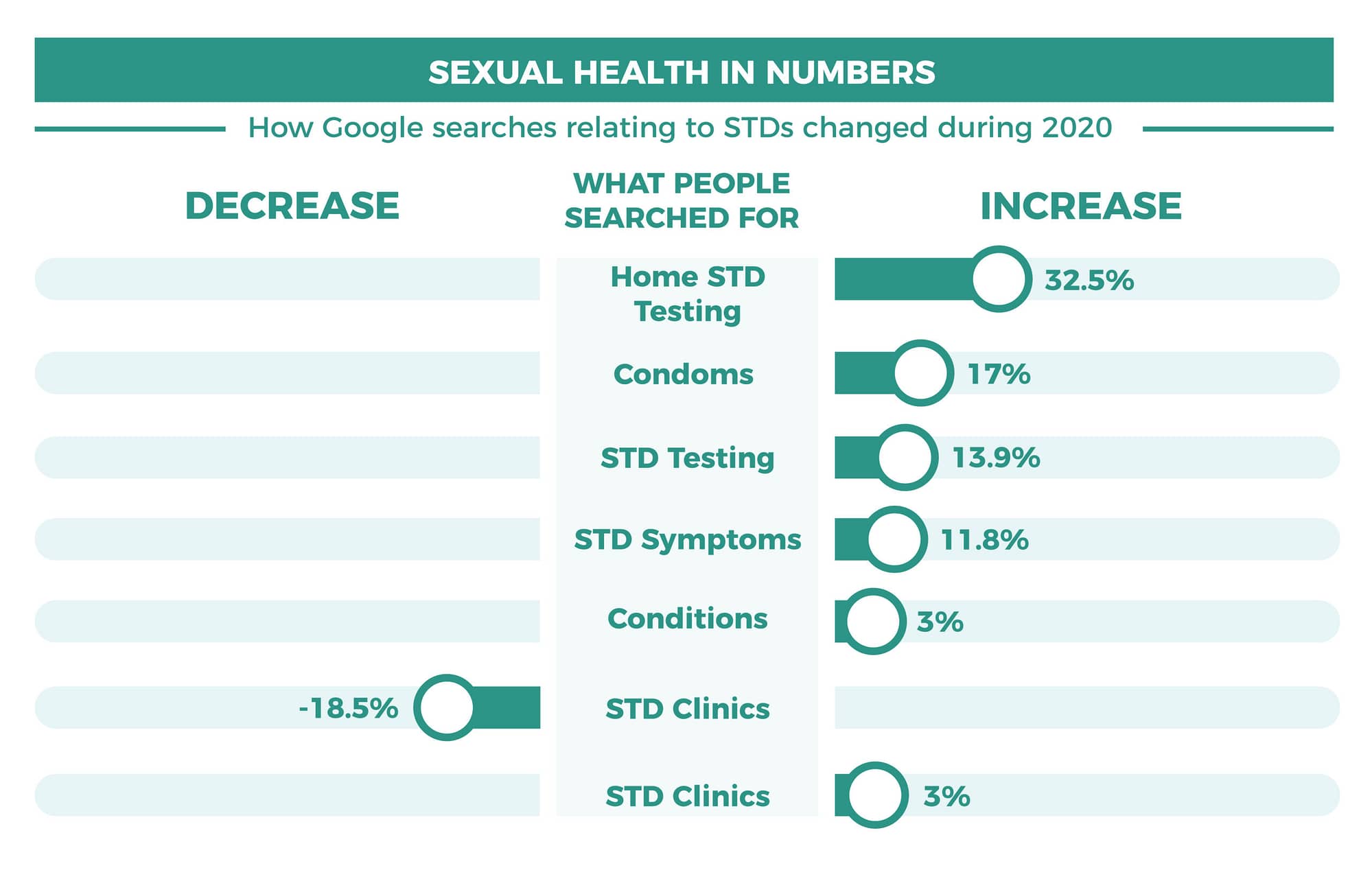 Interest in home STD testing has increased
With the availability of in clinic STD testing on the decline even before COVID, it's no surprise to see more people searching for home STD testing options during 2020. The pandemic has accelerated this shift, with more people than ever Googling for home STD testing.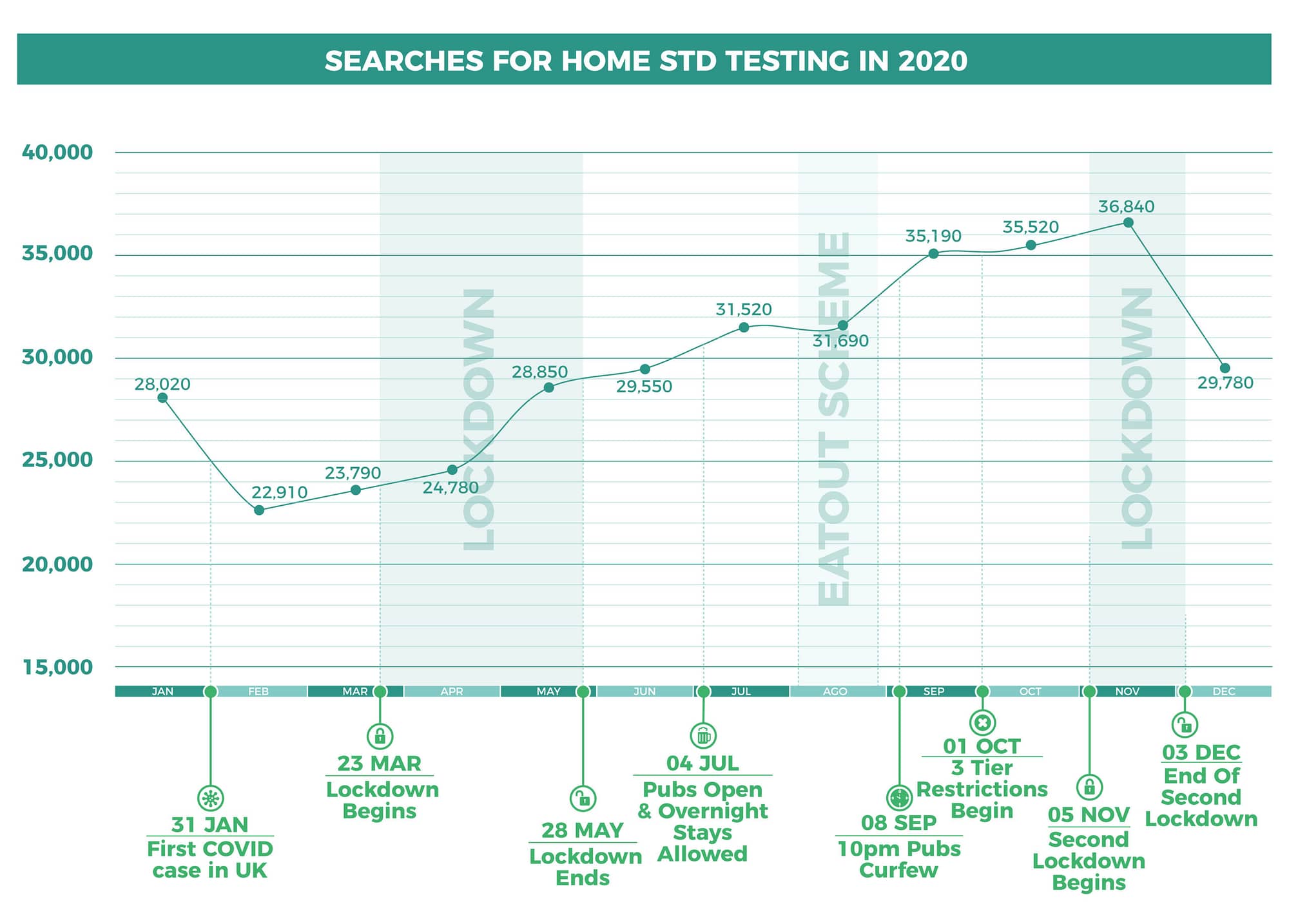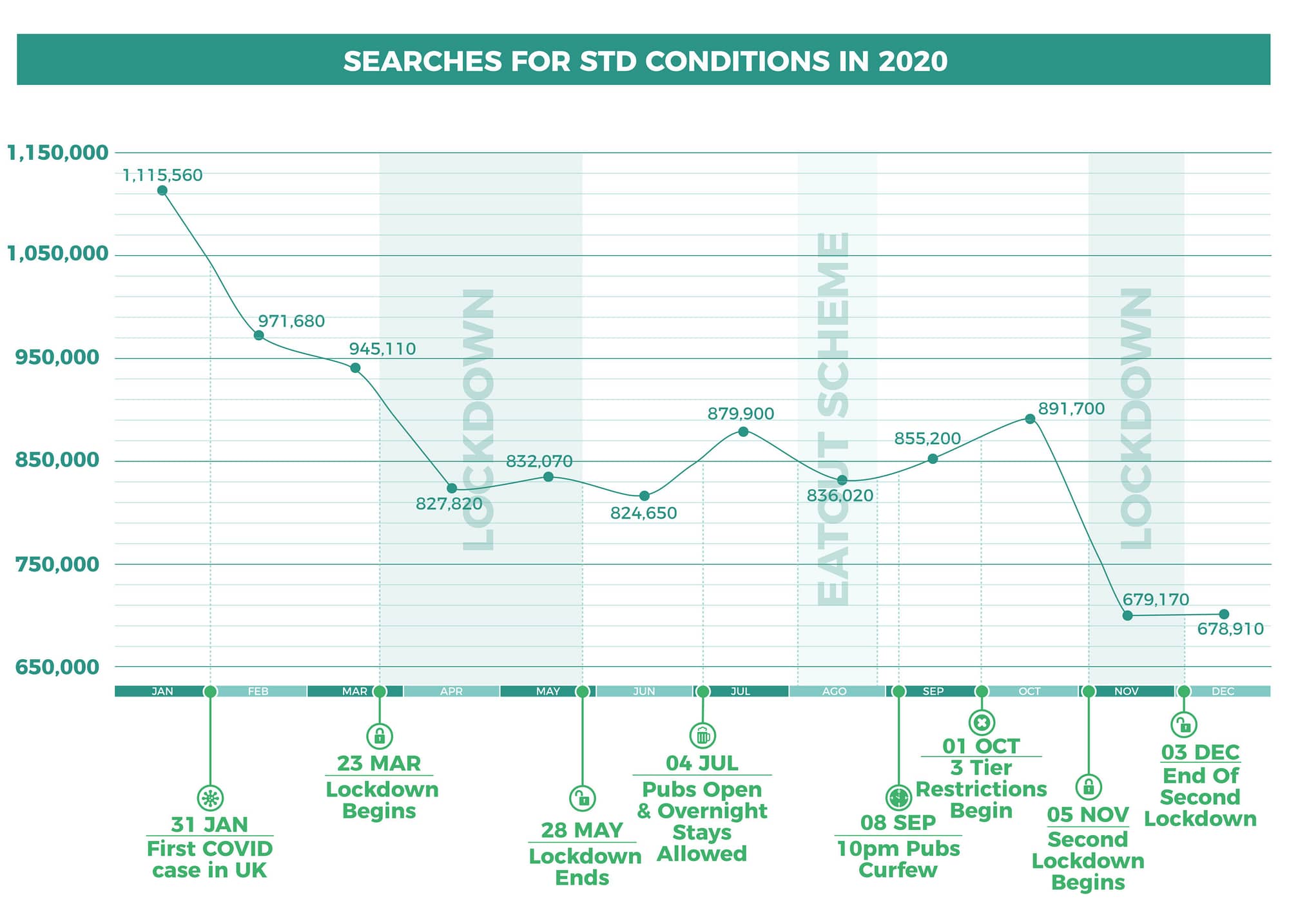 Methodology
All of the data contained in this article is taken from Google's search volume data. We used over 1000 search terms in our original data set, before narrowing down the final data to remove any keywords with negligible search volumes averaging under 70 searches per month. This data was categorised into the topics seen above to gain an overall picture of trends.