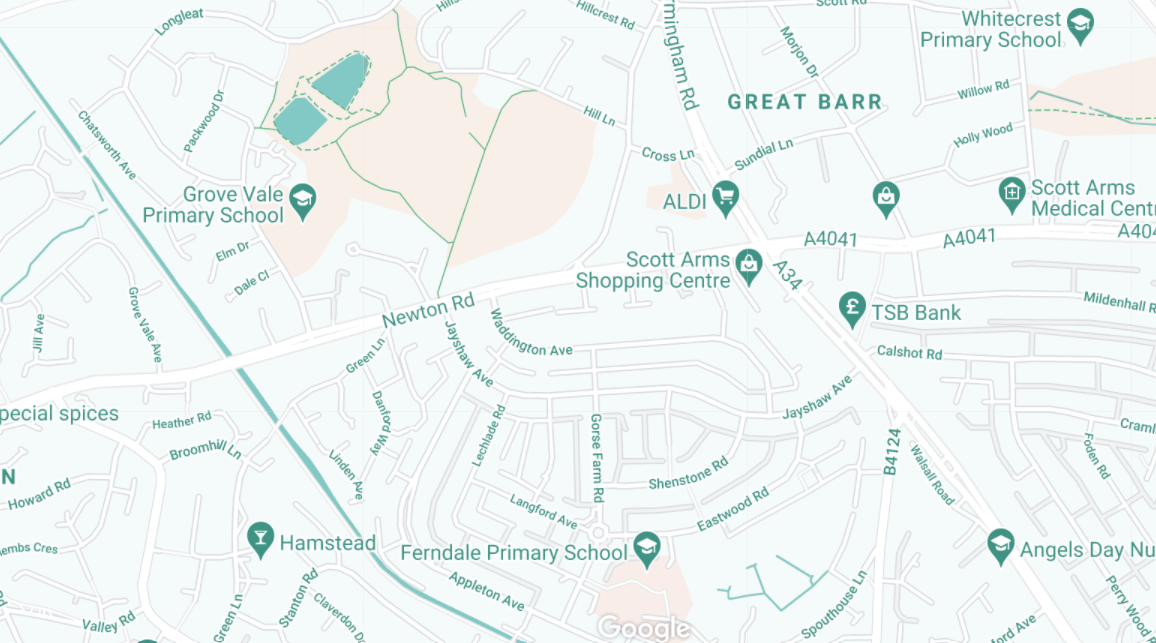 Birmingham
Newton Road, Great Barr, Birmingham, B43 6AA
Great availability

Good public transport
What To Expect From Your Private STD Check In Birmingham  
Your Sexual Health has a private STD clinic on Newton Road in Birmingham, Great Barr. The STD clinic in Birmingham offers blood and urine STD testing and is open Monday to Friday. If this clinic in Birmingham is the most convenient for you, schedule a test by selecting the Birmingham Clinic, and we will find a time that works for you.
Where You Will Find Us 
Our Birmingham clinic in Great Barr is located on Newton Road, just a 25-minute walk from Hampstead train station. The clinic is in a convenient location, accessible by many car routes as well as a bus route that runs directly past the clinic. This makes the Birmingham clinic ideal for those who live locally or in the surrounding area. 
What Happens Once I've Deposited My Sample
Once you have deposited your sample, it will be submitted to our laboratory for analysis. Turnaround periods vary depending on the test you take, but you will be notified via your specified contact method as soon as we receive your results. If your test results are positive, you will be offered a complimentary GP appointment with our partner medical organisation. They will support you in getting treatment if it is necessary.
All Tests Available At Birmingham
We offer a wide range of discreet and confidential STD tests that you can take at one of our private clinics or in the comfort of your own home. Filter the tests using the categories listed below and click on the test cards to find out more about the procedures.
Filter
All Tests
Most Popular
Profile Tests
Early Detection Tests
Instant Tests
Quick Turnaround
Individual Tests
Chlamydia Tests
Gonorrhoea Tests
HIV Tests
Syphilis Tests
Genital Herpes Tests
Hepatitis Tests
Pre-pregnancy & IVF
Visa & Travel
Other Tests
Sample Requirements Key:
Blood
Urine
Swab