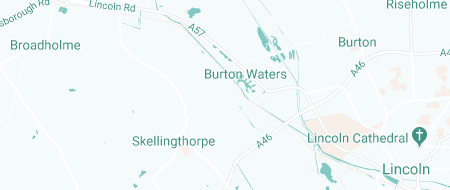 Lincoln
The Landings, Burton Waters, Lincoln, LN1 2TU
Great availability

Evening & weekend appointments

Onsite parking
What to expect from our private STD clinic in Lincoln?
Your Sexual Health have a private STD clinic in Lincoln offering a wide range of discreet and confidential STD tests. Benefit from a fast turnaround and accurate laboratory results you can trust. To book your appointment, choose the test that you require and an appointment time that suits you. Once your appointment is confirmed, simply visit the clinic where you will be greeted by a nurse. They will take your sample and send it to our lab. It's that simple.
Where is the Lincoln STD clinic?
Our private sexual health clinic in Lincoln is in Burton Waters, to the north west of central Lincoln. It's just a short 10 minute drive to the clinic via Saxilby Road from the city centre. Due to the clinic's location on the A57, it's also easily accessible from other areas of Lincolnshire, including Newark via the A46 or Scunthorpe via the A15. The clinic has on site car parking.
What happens once I've deposited my sample?
Once your sample is received by our lab we will begin testing it. As soon as we have your results you'll be notified via your preferred contact method of telephone or secure email. In the event that your results return positive you will be offered a free GP consultation with out partner medical organisation. They will answer any questions you may have and prescribe medication should it be required. We're the only testing service to offer this same level of aftercare in the UK.
All Tests Available At Lincoln
We offer a wide range of discreet and confidential STD tests that you can take at one of our private clinics or in the comfort of your own home. Filter the tests using the categories listed below and click on the test cards to find out more about the procedures.
Filter
All Tests
Most Popular
Profile Tests
Early Detection Tests
Instant Tests
Quick Turnaround
Individual Tests
Chlamydia Tests
Gonorrhoea Tests
HIV Tests
Syphilis Tests
Genital Herpes Tests
Hepatitis Tests
Pre-pregnancy & IVF
Visa & Travel
Other Tests
Sample Requirements Key:
Blood
Urine
Swab

Lincoln Sexual Health Clinic FAQs
Sexual Health Clinics, sometimes known as family planning clinics or GUM clinics, offer you sexual health advice or provide Sexually Transmitted Infection (STI) tests which are interchangeably known as Sexually Transmitted Diseases (STD).

You would want to consult a sexual health clinic if you have had unprotected sexual contact, and want to be tested for sexually transmitted infections. Depending on your urgency for results, you may want to consider a private practice to cut down on the waiting time. This shorter period of waiting time is offered by Your Sexual Health, a private Sexual Health Clinic available across the UK or by post, also known as home testing.
Sexual Health Clinics only ask necessary questions relating to your recent sexual practices. You should feel free to share any and all information with the person who administers the test, as this information may be relevant to the diagnosis of a suspected sexually transmitted disease.
We ask a minimum of 2 questions when assessing what type of test you may need, but we may require further information during the testing procedure as it may help identify any diagnosis we may make.
Our initial questions may take the form of;
What is your reason for getting tested?
What are your symptoms?
When was the last time you were sexually active?
These questions are asked as standard and can be omitted if they are deemed to be culturally or religiously insensitive at the clients' request.
You can enjoy a normal day before having a sexual health check, just treat it as a normal doctor's appointment. If a urine sample is needed, we recommend not weeing 2 hours before your sample is due.

It is also considered best practice to not consume alcohol for up to 24 hours before a blood, saliva or urine sample is due.