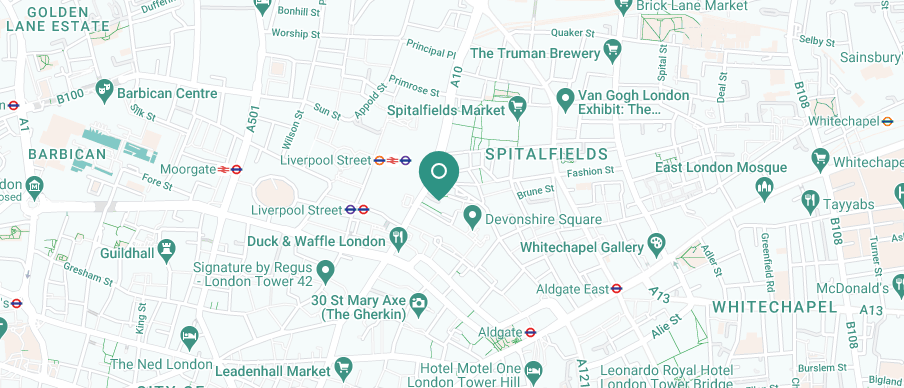 London – Victoria Avenue
Victoria Avenue, London, EC2M 4NS
Great availability

Good public transport
Private Sexual Health Clinic at Victoria Avenue, London
Your Sexual Health has a private sexual health clinic in Bishopsgate offering a range of STD tests. Private and confidential, the tests have a quick turnaround time.
Choose the test that you require and book an appointment time that suits you. We'll be in touch to confirm the exact appointment day and time.
Where is the London – Victoria Avenue Sexual Health Clinic?
Our London – Victoria Avenue clinic is located in Bishopsgate, conveniently located a minute's walk away from Liverpool Street tube station. The clinic is a few minutes away from Moorgate, Bank and Aldgate tube stations. With good transport links, the clinic is perfect for anyone either working/living in the area or travelling by tube.
Looking for a clinic in a different area of London? We have over 10 clinics around London, so find the one that is the closest to you.
What Tests are Available at the Clinic?
In the Victoria Avenue clinic, you can get tested for the most common STIs, including chlamydia, gonorrhoea, hepatitis and HIV. You can also get our most comprehensive tests, such as our Premium Profile, which tests for 11 STDs. Browse all available tests further down this page and choose the one that best meets your needs.
All Tests Available At London – Victoria Avenue
We offer a wide range of discreet and confidential STD tests that you can take at one of our private clinics or in the comfort of your own home. Filter the tests using the categories listed below and click on the test cards to find out more about the procedures.
Filter
All Tests
Most Popular
Profile Tests
Early Detection Tests
Instant Tests
Quick Turnaround
Individual Tests
Chlamydia Tests
Gonorrhoea Tests
HIV Tests
Syphilis Tests
Genital Herpes Tests
Hepatitis Tests
Pre-pregnancy & IVF
Visa & Travel
Other Tests
Sample Requirements Key:
Blood
Urine
Swab