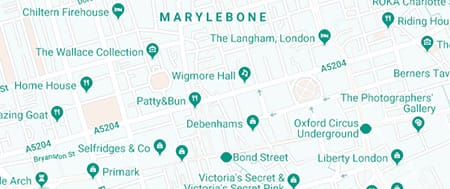 London – Wimpole Street
Wimpole Street, London. W1G 9RT
Great availability

Good public transport

Evening & weekend appointments
What to expect from your private STD clinic in London
Your Sexual Health have a private STD clinic in Central London on Wimpole Street. The clinic has excellent availability, opening from 7.00am until 7.00pm Monday to Friday and until 5.00pm on Saturdays. This ensures quick and easy access to testing for those living in and around Central London.
Where you will find us?
Our Wimpole Street clinic is located a short walk from Oxford Circus tube station making it ideal for those that work or live in Greater London. We also have clinics near Regent's Park and in Canary Wharf. Those living in North London, or just outside Greater London, may find that our Harrow clinic is more convenient.
What happens once I've deposited my sample?
Once you've deposited your sample it will be sent to our laboratory for testing. Turnaround times depend on the test you've taken, but as soon as we know your results you'll be notified via your preferred contact method. In the event that your result returns positive, you'll also be offered a free GP consultation with our partner medical organisation. They will help you in gaining treatment should it be required.
All Tests Available At London – Wimpole Street
We offer a wide range of discreet and confidential STD tests that you can take at one of our private clinics or in the comfort of your own home. Filter the tests using the categories listed below and click on the test cards to find out more about the procedures.
Filter
All Tests
Most Popular
Profile Tests
Early Detection Tests
Instant Tests
Quick Turnaround
Individual Tests
Chlamydia Tests
Gonorrhoea Tests
HIV Tests
Syphilis Tests
Genital Herpes Tests
Hepatitis Tests
Pre-pregnancy & IVF
Visa & Travel
Other Tests
Sample Requirements Key:
Blood
Urine
Swab