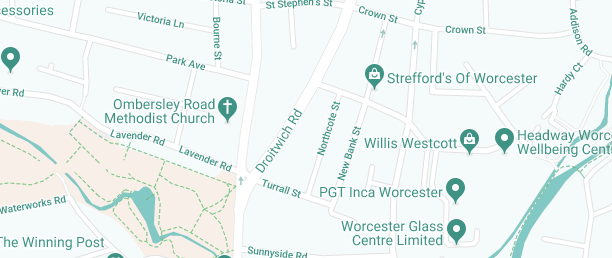 Worcester
Droitwich Road, Worcester. WR3 7LH
Great availability

Good public transport

Evening & weekend appointments

Onsite parking
What to expect from our private STD clinic in Worcester?
Your Sexual Health have a private STD clinic in Worcester offering a wide range of discreet and confidential sexual health tests. You'll benefit from a fast turnaround time and laboratory results that you can trust by booking your appointment with us. Our clinics offer a comfortable surrounding to be tested in and our online booking service is straightforward and simple. Book your test with us today to get the answers that you need.
Where is the Worcester clinic?
Our private sexual health clinic in Worcester is located Droitwich Road, 1 mile north of the city centre in the Barbourne area of the city. You'll find it on the south side of Droitwich Road near Gheluvelt Park. The nearest train station is Worcester Shrub Hill railway station, which is less than a mile away, whilst the M5 is within close proximity for those arriving from the surrounding cities and towns.
What happens once I've deposited my sample?
Once you've visited our Worcester clinic and deposited your sample it will be sent to our laboratory for testing. You can access your results on our online portal or we can call you if that's your preferred contact method. In the event that your results are positive, you'll be offered a free telephone consultation with a GP from our partner medical organisation. They'll answer any questions you may have about the condition and prescribe medication should it be required.
All Tests Available At Worcester
We offer a wide range of discreet and confidential STD tests that you can take at one of our private clinics or in the comfort of your own home. Filter the tests using the categories listed below and click on the test cards to find out more about the procedures.
Filter
All Tests
Most Popular
Profile Tests
Early Detection Tests
Instant Tests
Quick Turnaround
Individual Tests
Chlamydia Tests
Gonorrhoea Tests
HIV Tests
Syphilis Tests
Genital Herpes Tests
Hepatitis Tests
Pre-pregnancy & IVF
Visa & Travel
Other Tests
Sample Requirements Key:
Blood
Urine
Swab

FAQs
Your results will only appear on your medical records in positive cases which
are at
your request. Your results are completely confidential. Your test will come from you and go to our laboratory. From there, the results will appear in your portal on our website. 
If your results require treatment, we will speak with you about passing over your information to one of our medical partners. To confirm, we will only do this at your request.
If you have had unprotected sex, have a new partner or think you are displaying symptoms then you might want to be screened for your sexual health. A sexual health clinic tests for samples of a sexually transmitted disease that you may have picked up through sexual intercourse. 
These symptoms can be varied in nature and range from burning when you pee to discharge from your sexual organs. 
If you aren't displaying symptoms, if you are considering sleeping with a new partner or you have had unprotected sex and then it is seen as good practice to get tested.
Yes. Even though our service is completely confidential you ought to be as truthful as possible with any medical professional. This will help them be as accurate as possible. Our clinics are not just dedicated sexual health clinics. Our professionals offer a variety of other services which deviate from sexual or reproductive health into a variety of medical fields. People in the waiting room might be there for any other personal medical reason so you have no reason to worry. Plus, with Your Sexual Health being a private service, our waiting rooms are more discreet than NHS waiting rooms.
No, a standard blood test offered by the NHS doesn't test for STDs.
Different viruses are tested for in different ways and by using different methods. You often won't be tested for something unless it is seen as a medical priority to do so.