GUM Clinics Belfast
Your Sexual Health has a number of sexual health clinics in Belfast, that offer a range of confidential and private STD testing options. Our clinics in the city centre, and in Lisburn offer individual STD tests, Comprehensive Profiling Tests, as well as Pre-Pregnancy and Instant Tests. Our service is quick and simple to book, just choose the test and a time that suits you via our website, then visit the GUM clinic in Belfast to deposit your sample. Browse our range of tests and clinics below.
Locations of GUM Clinics in Belfast
We have three sexual health clinics in Belfast, two in the city centre and one in Lisburn. All clinics are easily accessible via public transport or main roads if you are driving. Both the Belfast and Lisburn clinic offer weekend and evening appointments if you are unable to take time off work to get tested. 
All of our clinics are selected for their high standards of comfort, convenience, discretion and accuracy. When you attend your appointment at one of our STD clinics in Belfast, you'll be greeted by an experienced nurse or doctor who will collect your sample before sending it off for laboratory testing.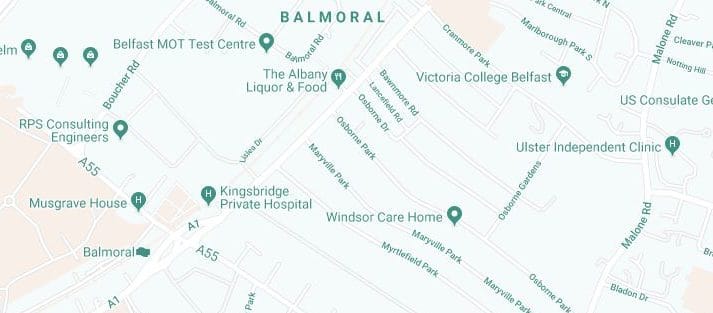 Belfast
Lisburn Road, Belfast. BT9 6GR
Great availability

Good public transport

Evening & weekend appointments

Onsite parking
Our private STD clinic in Belfast is located in the Balmoral area of the city on Lisburn Road. The clinic is easily accessible out of central Belfast via the A1, whilst Balmoral Railway Station is also just a short 400m walk from the clinic.
Belfast - Central
Howard Street, Belfast. BT1 6PJ
Great availability

Good public transport
Our Belfast - Central clinic is located on Howard Street. Its just a short walk from Great Victoria Street Train Station and a number of other nearby, well-known landmarks including the Great Opera House. Access to the clinic via road is possible using the A12 and M1.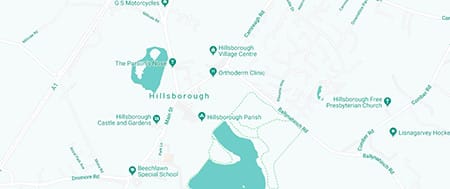 Lisburn
Ballynahinch Road, Hillsborough. BT26 6AR
Great availability

Good public transport

Evening & weekend appointments

Onsite parking
We have a clinic located 8 miles to the south of Belfast in the city of Lisburn. A 15 minute drive from central Belfast the clinic offers convenient access via the A1 and M1. There is a small car park as well as extensive on street car parking in the nearby area.
Tests Available at Our Sexual Health Clinics in Belfast
Our sexual health clinics across Belfast offer a wide range of private STD tests, diagnosing all common STIs. As well as our standard tests, we also offer a range of tests for specific purposes, including Early Detection, Pre-Pregnancy or Instant Tests. If you're looking to test for multiple STDs with the same sample, browse our Profile Tests. Look at our range of STD tests below, or get in touch with our friendly team on 0161 660 2599 who will be happy to direct you to the right test.
What Should You Expect From a Private STD Test in Belfast?
Once you've found your closest Belfast GUM clinic, simply arrive and you'll be greeted by a friendly member of our team. The medical practitioner will make you feel comfortable before taking your sample and sending it off to the nearest laboratory. Once your results have been collected, we will contact you as soon as possible through your preferred contact method, or via our online portal.
Find out more about STD testing below, or if you want to find out more about our Sexual Health Clinics in Belfast and the surrounding areas, contact our customer services team by chat, phone, or email.
Your Sexual Health has multiple private STD clinics in and around Belfast. Our clinic in Belfast Central is on Howard Street, close to Great Victoria Street train station and other local amenities in the city centre.
We have another sexual health clinic just outside Belfast city centre close to Balmoral train station and Musgrave Park Hospital. Our Balmoral clinic is easy to access via road from the city centre via the A1.
Our private STD clinic in Lisburn is located near Hillsborough Medical Practice, accessible via bus. There is a public car park a short walk away, and the nearby A1 provides easy access to and from Belfast city centre.
Once your sample has been deposited at one of our GUM clinics in Belfast, it will be sent by Royal Mail 1st Class post to the nearest laboratory. Here it will be tested using the highest possible standards of medical accuracy available anywhere in the UK. Once we learn your results we'll notify you using your preferred contact method and we will then upload them to our secure portal.
In the unfortunate event that your results come back positive, you'll also be offered a free telephone consultation with a GP from our partner medical organisation. They'll be able to answer any questions you may have about the condition and provide you with a prescription should it be required. We're the only online private STD testing provider to offer this same level of aftercare in the UK.
You should get tested for STDs for peace of mind that you do not currently carry infection, and you aren't at risk of passing it to anyone else. There are also several other reasons to get tested:
Encourage a healthy pregnancy if you are trying for a baby or are about to start IVF treatment

To support your VISA application if you're moving to a country that requires an HIV-free certification

Ensure you don't pass on infections to new sexual partners

To make sure you are not an asymptomatic carrier of an STD currently that could cause harm if left untreated
Every sexually transmitted infection will affect each patient in a different way and indeed many they not experience any symptoms at all. For this reason, the most effective way to know if you have an STI is to get tested. However, some common symptoms may include: 
Discharge from your penis, vagina or anus

Pain whilst urinating

Lower abdominal pains

Rashes, blisters or sores affecting your genital area

Blood in between periods for women
If you notice any of these symptoms it's important that you are tested or seek medical help immediately. Get in touch with our team if you need help choosing the right sexual health test. 
Your Sexual Health offers a private sexual health screening service that is based on your schedule and needs. With Your Sexual Health, you can:
Visit four clinics located across Belfast which means you'll be able to find the most suitable option for you

Get discreet

Home Testing Kits

delivered straight to your door

Receive screening results instantly with our

Instant Testing

service

Get tested for multiple STDs from the same sample with our

Profile Tests

Get confidential advice over the phone from our team of dedicated GPs if your result comes back positive

Keep your test results secret, which means they won't go on your NHS records unless you specifically request it
Book Your GUM Clinic Appointment in Belfast