Private STD Clinics in Bristol
Book your discreet and confidential sexual health test at one of our private STD clinics in Bristol. Benefit from a quick turnaround and accurate laboratory results with our stress free service. Find your clinic and test below or contact our friendly customer services team today on 0161 660 2599.
Browse our range of private STD clinics located across Bristol. We're sure there will be a location to suit your needs, but if you're unsure contact us on 0161 660 2599 or by using the live chat function.
Bristol - Hanham
Dundridge Lane, Bristol. BS5 8SW
Great availability

Evening & weekend appointments

Onsite parking
Our Bristol - Hanham clinic is located on Dundridge Lane, 3 miles to the east of Bristol City Centre. The clinic offers an excellent location for anyone living on the outskirts of the city or in nearby towns, allowing you access to the clinic whilst avoiding central Bristol.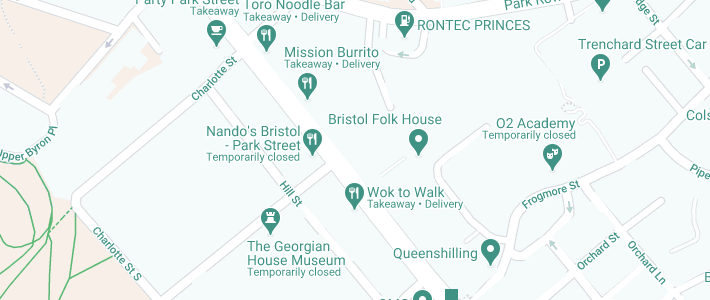 Bristol - College Green
Park St, Bristol BS1 5JG
Great availability

Good public transport

Evening & weekend appointments
Located on Park Street, near to College Green in Bristol City Centre. It's near to the University of Bristol just off Park Row making it ideal for anyone living or working in the city. There are a number of nearby bus stops to the clinic, whilst Bristol Temple Meads train station is a mile walk away.
Private STD Testing in Bristol
Our Bristol clinics offer a complete range of private STD testing. We also have a range of options for same day turnaround time, where results can be returned while you wait, for particularly sensitive situations. All you have to do is book the tests you wish to be carried out and book an appointment time, the rest will be explained to you on arrival. Packages that we offer include private chlamydia tests, HIV, syphilis, hepatitis, gonorrhoea and others.
WHAT TO EXPECT FROM OUR PRIVATE SEXUAL HEALTH CLINICS IN BRISTOL
People looking for private STD testing in Bristol can visit one of Your Sexual Health's clinics in the city. We have clinics in Temple Quay, Aztec Centre and Hanham. You will be greeted by a professional medical practitioner who will assist you in effectively collecting the samples required. As well as being able to book an appointment time that best suits you, we offer a 100% confidential service to ensure your visit is as stress free as possible.
WHAT HAPPENS FOLLOWING YOUR VISIT
Once we have collected your sample it will be sent to our laboratory for testing. Your results are returned via a previously agreed contact method, which is either phone or email. If your results return positive you'll also be offered a telephone consultation with a GP from our partner medical organisation. They will be able answer any questions you have about your diagnosis and arrange for treatment or onward referral, should it be required.