Bristol Sexual Health Clinic
Book your private sexual health screening at one of our Bristol sexual health clinics, or the surrounding areas. Our Bristol sexual health clinics offer a wide range of testing options. Simply book your test at a time that suits you and arrive at your appointment to get your samples taken. Browse our Bristol sexual health clinics below.
Bristol Sexual Health Clinics
Your Sexual Health have two clinics located in Bristol, with more in other nearby towns. All of our private sexual health clinics offer a veriety of testing services, including for both commonly known and lesser-known STDs. All clinics offer a comfortable and discreet service when collecting your samples. If you can't access our clinics for whatever reason, you can order our home testing kits to your chosen address. Browse our clinics below.
Bristol - Hanham
Dundridge Lane, Bristol. BS5 8SW
Great availability

Evening & weekend appointments

Onsite parking
Our Bristol - Hanham clinic is located on Dundridge Lane, 3 miles to the east of Bristol City Centre. The clinic offers an excellent location for anyone living on the outskirts of the city or in nearby towns, allowing you access to the clinic whilst avoiding central Bristol.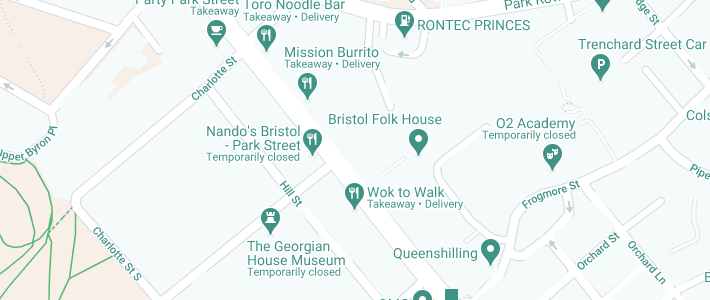 Bristol - College Green
Park St, Bristol BS1 5JG
Great availability

Good public transport

Evening & weekend appointments
Located on Park Street, near to College Green in Bristol City Centre. It's near to the University of Bristol just off Park Row making it ideal for anyone living or working in the city. There are a number of nearby bus stops to the clinic, whilst Bristol Temple Meads train station is a mile walk away.
STD Tests Available in Bristol
At our Bristol clinics, we offer a range of STD testing options. We can test for individual STDs, or you can use our profile screening tests to test for multiple STDs with the same samples. We also have a range of options for same day turnaround time, where results can be returned while you wait, for particularly sensitive situations. If you're not sure what you need, get in touch with our friendly team for assistance or browse our range of tests below.
What Should You Expect When Visiting our Sexual Health Clinics in Bristol?
At our clinics in Bristol, you will be greeted by a professional medical practitioner who will assist you in effectively collecting the samples required. As well as being able to book an appointment time that best suits you, we offer a 100% confidential service to ensure your visit is as stress free as possible. If your results come back positive, you will be notified over the phone, and a telephone consultation will be arranged so you can be advised on the best course of treatment.
WHAT HAPPENS FOLLOWING YOUR VISIT
Once we have collected your sample it will be sent to our laboratory for testing. Your results are returned via a previously agreed contact method, which is either phone or email. If your results return positive you'll also be offered a telephone consultation with a GP from our partner medical organisation. They will be able answer any questions you have about your diagnosis and arrange for treatment or onward referral, should it be required.
If you can't access one of our 100 private sexual health clinics across the UK, we would recommend ordering a home testing kit. They can be delivered to your chosen address within a few days, and you can take the sample yourself at home, before posting it back to us. As long as you collect your sample in the correct way, your test results should be just as accurate.
Everyone has their own reasons for getting tested, here are just some of the reasons that might encourage you to get tested: 
If you're experiencing STD symptoms (take a look at our recent article for more information on the

common signs of an STD

)

Starting a new relationship and you want to ensure you're all clear

If you've had a one night stand but didn't use protection

General peace of mind testing if you've had more than one sexual partner in the previous year

Before beginning IVF or if you're trying for a baby

To support your VISA application if you're moving to a country that requires HIV free certification
You should get tested after every new partner, to ensure you don't unknowingly spread any STDs to future partners. If you don't often change partners, you should still get a comprehensive STD screening every six months to a year. You should also get an STD test before you try for a baby, or start IVF treatment, to ensure your best chances of a healthy pregnancy.
If your test returns a positive result for an STD, you will be contacted straight away. A telephone consultation with a GP will then be arranged at no extra cost to you. The GP will be able to talk to you about your result, and also advise on the best course of action to take to treat the STD. They will prescribe you medication should it be required. We're the only testing service in the UK to offer this level of aftercare.
The service offered by Your Sexual Health offers a more discreet and confidential testing option to NHS testing. Here are just some of the reasons to choose us: 
Discreet and confidential service where the only people who know about your test are you and us

Clinics across Cambridge and surrounding towns which means you'll be able to find the most suitable option for you

Appointment service allowing you to fit your tests around your schedule

Competitive pricing for a range of tests

Home Testing options

if you decide against attending a clinic