Private Sexual Health Clinics in Nottingham
We have multiple sexual health clinics located in Nottingham, both offering a range of testing for a plethora of STDs. We provide testing that is tailored to suit your schedule and needs from our comprehensive testing to same-day results and more. Simply book your appointment at your chosen location and time to have your sample and we'll do the rest and get back to you with your results. Find more about our sexual health clinic in Nottingham below.
OUR PRIVATE SEXUAL HEALTH CLINICS IN NOTTINGHAM
Our sexual health clinics in Nottingham offer an excellent choice for people located in or outside the city centre. If you're unsure how to get to our clinic or if it isn't convenient for you, contact one of the excellent team members who will be happy to advise you on your best option.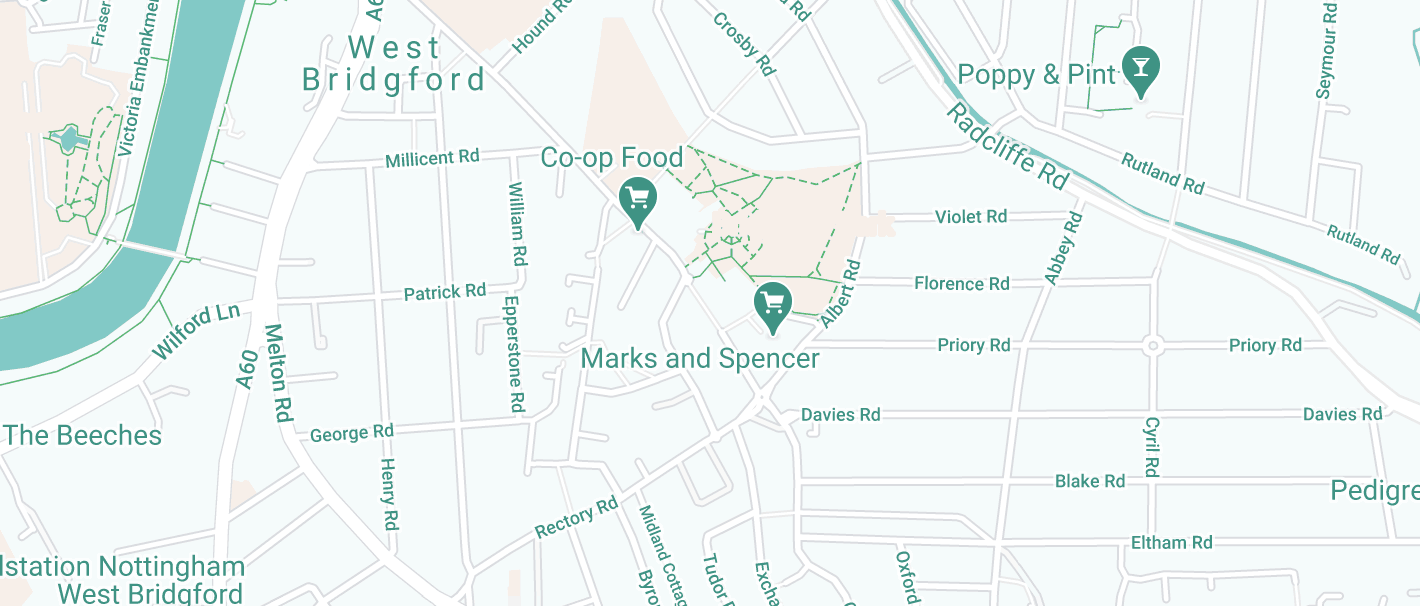 Nottingham
Rectory Road, West Bridgford, Nottingham. NG2 6FF
Great availability

Good public transport

Evening & weekend appointments
Our private sexual clinic in West Bridgford, Nottingham is based on Rectory Road. The clinic is a 5 minute walk south of Bridgford Park, opposite West Bridgford Police Station and is a 1.6 mile walk from the train station whilst having great bus links from city centre.
Nottingham - Carrington
Cannon Street, Sherwood, Nottingham, NG52HB
Great availability

Good public transport

Onsite parking
Our private STI clinic in Nottingham is located on Mansfield Road. The clinic offers excellent access to private sexual health testing for anyone living and working in the city. The clinic is located 1.4 miles north of the city centre and is easily accessible via the A60 from the city centre.
STD Testing in Nottingham
We offer a wide selection of private sexual health testing options at our clinics in Nottingham, including tests for individual tests for certain STDs to comprehensive profile testing. We provide a safe, discreet space for people to complete STD testing simply and straightforwardly. Looking for a specific test? Browse our range of tests to see what we have to offer.
What To Expect From Our Sexual Health Clinics in Nottingham
We pride ourselves on our straightforward process; simply pick your chosen test package, then book an appointment at a clinic that suits you. Arrive for your appointment on time to avoid waiting. We'll collect your sample, whether that be urine, blood or both, and send that off to the lab on the same day of your appointment. Once we receive your results we'll contact you to let you know the outcome, and we'll move on to the next necessary step dependent on your results.
If you are looking for more information about our sexual health services and testing in Nottingham, read our frequently asked questions below. For more sexual health-related health advice, visit our blog, where we discuss all things sexual health including symptoms and testing.
We have two sexual health clinics in Nottingham, which are located on Rectory Road and Carrington. Both of our clinics are accessible by either car or public transport dependent on your preference. Our Rectory Road clinic offers evening and weekend appointments to tailor to the busy life and work schedules.
There are over 20 types of STDs, all at different levels of severity and displaying different kinds of symptoms. Some of the most common types of STDs are: 
We offer testing for all of these and more; check out everything we offer testing for here.
If your result comes back positive, we will notify you and offer you a telephone consultation with a GP from our partner medical organisation. They will be there to offer advice and answer any questions you may have about your diagnosis. They will arrange for onward referral or treatment if needed and will be on hand to call to ensure your STD is being managed properly.
STDs can't go away on their own but most STDs are curable with the right course of medication. However, there are a handful of STDs which cannot be 'cured' once contracted and will never go away. These include HIV, Herpes and Hepatitis B but symptoms can be managed when consulted through your GP. Find out more about incurable STDs and treatment options in our recent blog.
The service offered by Your Sexual Health offers a more discreet and confidential testing option to NHS testing. Here are just some of the reasons to choose us: –
Discreet and confidential service where the only people who know about your test are you and us
Clinics across the UK which means you'll be able to find the most suitable option for you
Appointment service allowing you to fit your tests around your schedule
Competitive pricing for a range of tests
Book Your Appointment at a Sexual Health Clinic in Nottingham
If Nottingham is your chosen location, simply book a sexual health appointment at a clinic convenient to you. If you have any further queries about our facilities and services please contact one of our friendly staff who will be happy to give you any advice.