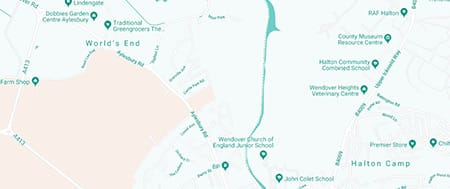 Aylesbury
Castlepark Road, Wendover, Aylesbury. HP22 6AE
Great availability

Onsite parking
What to expect from our private STI clinic in Aylesbury
Your Sexual Health have a private sexual health clinic in Aylesbury offering a wide range of private STI testing packages. Our service is completely discreet and confidential, meaning the only people that will know about your test is you and us. To book, simply choose the test that you require and pick an appointment time that suits you. All you have to do then is arrive at your clinic appointment to deposit your sample.
Where is the private STI clinic in Aylesbury?
Our private clinic in Aylesbury is located to the south of the town in the village of Wendover, just a short drive from the town centre via Wendover Road. The clinic location is easily accessible by road and has a small car park with ample roadside parking also available nearby. This clinic is also close to other nearby towns including Oxford, Hemel Hempstead and Milton Keynes.
What tests do Your Sexual Health offer?
We offer a wide range of private sexual health tests, including tests against chlamydia, HIV and gonorrhoea. Our tests are separated into two main categories, including profile and individual tests. Our individual tests diagnose one or two conditions at a time and are useful if you know you've come into contact with a particular condition. Our profile tests can diagnose a wider range of conditions using the same sample and are great for people wanting complete peace of mind.
What happens after my sample?
Once you've deposited your sample it will be taken to our laboratory for testing. When we receive your results we'll notify you either via email or phone. If your test returns positive you will also be offered a free telephone GP consultation with our partner medical organisation who will be able to answer any questions you may have about your condition. They can also arrange your prescription to get you the medication or onward referral you require.
All Tests Available At Aylesbury
We offer a wide range of discreet and confidential STD tests that you can take at one of our private clinics or in the comfort of your own home. Filter the tests using the categories listed below and click on the test cards to find out more about the procedures.
Filter
All Tests
Most Popular
Profile Tests
Early Detection Tests
Instant Tests
Quick Turnaround
Individual Tests
Chlamydia Tests
Gonorrhoea Tests
HIV Tests
Syphilis Tests
Genital Herpes Tests
Hepatitis Tests
Pre-pregnancy & IVF
Visa & Travel
Other Tests
Sample Requirements Key:
Blood
Urine
Swab