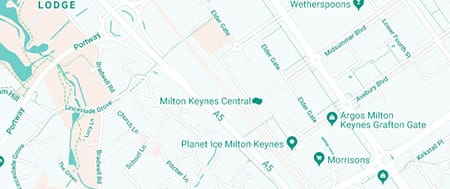 Milton Keynes
18 Rockingham Drive, Lindford Wood East, Milton Keynes, MK14 6LY
Good public transport
What to expect from our private STD testing in Milton Keynes
Your Sexual Health offer a private STD clinic in Milton Keynes offering a wide range of discreet and confidential sexual health tests. Our service offers maximum convenience. Simply choose the test that you wish to carry out and book an appointment time that suits you. All you have to do from there is arrive at our clinic to deposit your sample. We take care of the rest.
Where is the private STD clinic in Milton Keynes?
Our private STI clinic in Milton Keynes is located just off the A509, a short drive away from the A5. There are car parks nearby, making it perfect for anyone driving. The clinic is also easy to reach by public transport with a direct bus available from Milton Keynes Central.
What happens once I've deposited my sample?
Once you have visited our clinic in Milton Keynes and deposited your sample it will be sent to laboratory for testing. Our laboratories offer the highest standard of accuracy available, with turnaround times detailed on the test information page. With all tests they are couriered or posted first class to the laboratory and will usually arrive the following day.
Once your sample has been tested and we know your results, you'll be contacted using your preferred method, which is either telephone or email. In the event that your results return positive we will also offer you a free GP consultation where one of our doctors will answer any questions you may have about the condition. We can also prescribe medication should it be required.
All Tests Available At Milton Keynes
We offer a wide range of discreet and confidential STD tests that you can take at one of our private clinics or in the comfort of your own home. Filter the tests using the categories listed below and click on the test cards to find out more about the procedures.
Filter
All Tests
Most Popular
Profile Tests
Early Detection Tests
Instant Tests
Quick Turnaround
Individual Tests
Chlamydia Tests
Gonorrhoea Tests
HIV Tests
Syphilis Tests
Genital Herpes Tests
Hepatitis Tests
Pre-pregnancy & IVF
Visa & Travel
Other Tests
Sample Requirements Key:
Blood
Urine
Swab

FAQs
You will only be asked questions necessary to provide you with a competent medical diagnosis during your test. These questions can include
How many sexual partners do you have?
What type of sex are you having?
Have you visited a clinic before?
Do you have any symptoms?
What type of contraception do you use?
You can request to omit certain questions from your screening if they are culturally inappropriate. All information provided during your test will be 100% confidential between you, the practitioner present and our laboratory.
Results from a Your Sexual Health STI test can take between 2-5 days. One of the main advantages of a private sexual health service test is a quicker turnaround time than tests offered by the NHS.
We do have
instant tests
, which provide results within minutes but they are only aware at specific clinics. You can find out whether your chosen clinic provides these tests further up the page.
Yes, you ought to get tested in between each new sexual partner. If you are in a polyamorous relationship, then it may not be necessary to get tested for an STI between sexual partners. It is generally seen as a safer practice to keep your partner's sexual health in consideration as you would your own.

If you need a quicker turnaround time between the test and your results then you should consider a private screening.

Your Sexual Health has a private sexual health clinic located in Milton Keynes and clinics UK-wide, offering quicker testing than it is currently available with the NHS.