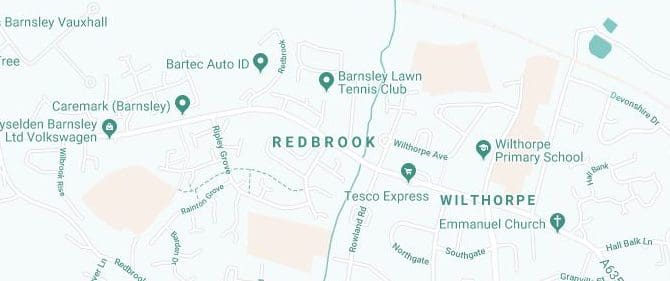 Barnsley
Innovation Way, Wilthorpe, Barnsley. S75 1JL
Great availability

Evening & weekend appointments

Onsite parking
What to expect from our private STD clinic in Barnsley?
Your Sexual Health have a private STD clinic in Barnsley offering discreet and confidential STD testing in a comfortable clinic environment. Our service is designed for maximum ease and convenience. Simply choose the test that you require and book an appointment time that suits you. All you have to do from there is arrive at your appointment to deposit your sample and we'll take care of the rest.
Where is the private STD clinic in Barnsley?
Our Barnsley clinic is in the Redbrook area of the town, just a short 10 minute drive out of the town centre. The clinic is located just off Huddersfield Road, with a large car park outside providing excellent access for anyone arriving by road. The clinic's location on the main road provides makes it easy for anyone living in the town, but it's also easily accessible for those living in surrounding towns including north Sheffield, Huddersfield and Wakefield.
What happens once I've deposited my sample?
Once you've deposited your sample it will be taken to our laboratory for testing. We use one of the most prestigious laboratories in the UK, offering results to the highest standard of medical accuracy. As soon as we get your results they will be reported to you via our secure online portal.
In the event of a positive test you'll be offered a telephone consultation with a GP from our partner medical organisation free of charge. They will be able to offer a prescription should you require. We're the only STD test provider offering this same level of care in the UK.
All Tests Available At Barnsley
We offer a wide range of discreet and confidential STD tests that you can take at one of our private clinics or in the comfort of your own home. Filter the tests using the categories listed below and click on the test cards to find out more about the procedures.
Filter
All Tests
Most Popular
Profile Tests
Early Detection Tests
Instant Tests
Quick Turnaround
Individual Tests
Chlamydia Tests
Gonorrhoea Tests
HIV Tests
Syphilis Tests
Genital Herpes Tests
Hepatitis Tests
Pre-pregnancy & IVF
Visa & Travel
Other Tests
Sample Requirements Key:
Blood
Urine
Swab