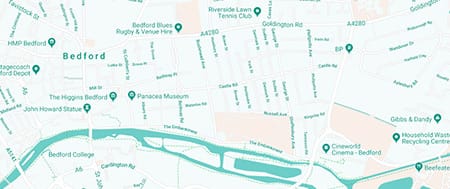 Bedford
Bushmead Avenue, Bedford. MK40 3QH
Great availability

Good public transport

Evening & weekend appointments

Onsite parking
What to expect from our private STI testing in Bedford
Your Sexual Health have a private sexual health clinic in Bedford that offers confidential and discreet STI testing against a range of common conditions. Our service is designed to offer patients accurate results using a completely convenient process. Simply choose the tests that you require and a suitable appointment time. Once your appointment is confirmed all you have to do is deposit your sample at our clinic and we will take care of the rest.
Where is the private STD clinic in Bedford?
Our private sexual health clinic in Bedford is located near Castle Road in the centre of Bedford. The clinic is an excellent location for anyone living or working in nearby Milton Keynes or Northampton, both less than an hour away. On street parking is available in the area surrounding the clinic making it easily accessible for anyone arriving by road. The nearest train station is Bedford station which is a 20 minute walk away from the clinic.
What tests are available from Your Sexual Health
We offer tests that diagnose a wide range of conditions including private chlamydia and HIV tests. Our products are available as individual tests against one or two conditions at a time or profile tests which diagnose multiple conditions using the same sample. The profile tests are excellent for people who are starting new relationships or maybe just want to get complete peace of mind. Our individual tests are a good solution for people who believe they've come into contact with a particular STI or have concerns about a particular condition.
What happens after my sample?
Once you've deposited your sample it will be taken to one of our labs for testing. Our labs give accurate results to the same standard as NHS clinics so you know you're in safe hands. We will let you know your results via either telephone or email to make the process as convenient and confidential as possible. In the unfortunate event that your test returns positive we will offer you a free GP consultation where you will be able to ask any questions about your future treatment. We also offer a prescription service to get the treatment that you require in a timely fashion.
All Tests Available At Bedford
We offer a wide range of discreet and confidential STD tests that you can take at one of our private clinics or in the comfort of your own home. Filter the tests using the categories listed below and click on the test cards to find out more about the procedures.
Filter
All Tests
Most Popular
Profile Tests
Early Detection Tests
Instant Tests
Quick Turnaround
Individual Tests
Chlamydia Tests
Gonorrhoea Tests
HIV Tests
Syphilis Tests
Genital Herpes Tests
Hepatitis Tests
Pre-pregnancy & IVF
Visa & Travel
Other Tests
Sample Requirements Key:
Blood
Urine
Swab