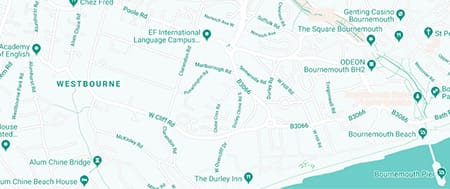 Sexual Health Clinic Bournemouth
Poole Road, Bournemouth. BH2 5QR
Great availability

Good public transport

Evening & weekend appointments

Onsite parking
ABOUT OUR PRIVATE STD CLINIC IN BOURNEMOUTH 
Your Sexual Health (YSH) have a private STD clinic network of over 100 clinics across the UK, including in all major towns and cities. Our clinic appointments allow you to get tested for a range of STDs in a relaxed and discreet setting. Each clinic is carefully selected to provide a professional, confidential and convenient service.
WHAT TO EXPECT FROM OUR PRIVATE STI TESTING IN BOURNEMOUTH?
Our private sexual health clinic in Bournemouth offers a wide range of confidential and discreet STI tests. Our simple process is designed with your convenience in mind. Simply book the test that you require and choose an appointment time that works for you. All you have to do is arrive at our clinic to deposit your sample and we will take care of the rest.
WHAT HAPPENS WHEN I VISIT AN STD CLINIC?
Once you arrive at the private sexual health clinic you'll be seen by either a doctor or a nurse. If you require a blood sample you'll be taken to a consulting room and they will draw blood. For urine samples you'll be given a container and offered instructions for use. Swab samples may be taken by the medical professional or by the patient depending on a number of factors. The sample will then be packaged up and sent by either courier or 1st Class post to our laboratory.
If you've booked an instant test, we'll take your samples for testing on our Instant Test Kit whilst you wait. Once your results come through you'll be notified there and then. In the event of a positive test you'll be contacted by Your Sexual Health to arrange a follow-up telephone consultation and to arrange your prescription.
WHAT HAPPENS ONCE I'VE DEPOSITED MY SAMPLE?
Once you've deposited your sample it will be taken to one of our laboratories for testing where we will gain your results to the highest level of medical accuracy. As soon as we learn your results you will be notified by your preference of either telephone or email.
In the unfortunate event that your results are positive you'll also receive a free telephone consultation with a GP from our partner medical organisation. They will be able to offer you any advice you may have about the condition. They can also offer treatment options via their prescription service and arrange onward referral should it be required.
WHERE IS THE PRIVATE STD CLINIC IN BOURNEMOUTH?
Our private STI clinic in Bournemouth is in the centre of the town just one mile inland from Bournemouth Pier. The clinic offers an ideal location for anyone living and around the town centre, whilst it also provides ideal access for anyone living in the wider Dorset region. There is limited parking at the clinic with lots of on street parking in the nearby area. Nearby landmarks include: 
Bournemouth Train Station is 2.3 miles away by car

Bournemouth International Centre is 1 mile away

The Sandbanks area of Bournemouth is just 3.5 miles away

Poole station 4 miles away

Clinic is accessible via the A35 and the A338

Bournemouth International Airport 7 miles away
All Tests Available At Sexual Health Clinic Bournemouth
We offer a wide range of discreet and confidential STD tests that you can take at one of our private clinics or in the comfort of your own home. Filter the tests using the categories listed below and click on the test cards to find out more about the procedures.
Filter
All Tests
Most Popular
Profile Tests
Early Detection Tests
Instant Tests
Quick Turnaround
Individual Tests
Chlamydia Tests
Gonorrhoea Tests
HIV Tests
Syphilis Tests
Genital Herpes Tests
Hepatitis Tests
Pre-pregnancy & IVF
Visa & Travel
Other Tests
Sample Requirements Key:
Blood
Urine
Swab