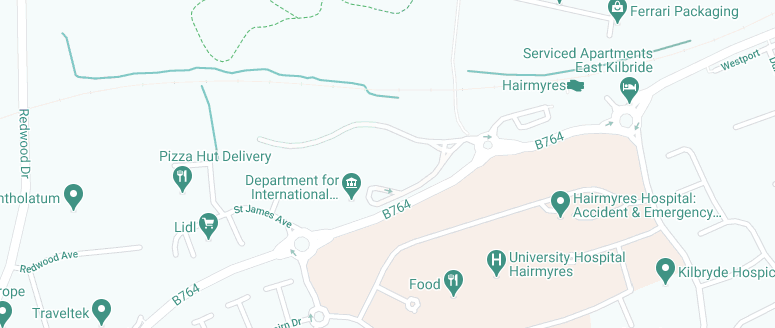 East Kilbride
Redwood Crescent, East Kilbride, Scotland, G74 5PR
Great availability

Good public transport

Onsite parking
What to expect from our private STD clinic in East Kilbride
Your Sexual Health's private STD clinic in East Kilbride offers a wide range of confidential sexual health tests. Our service is simple and stress free; simply choose the test that you need, book an appointment that suits you, and call into the clinic to deposit your sample. We'll handle the rest. The clinic in East Kilbride provides a safe, relaxed environment to help you feel at ease.
Where is the East Kilbride clinic?
Our private sexual health clinic in East Kilbride is located in the Peel Park business park. The clinic offers excellent access to discreet testing for anyone living in and around East Kilbride. Access to the clinic via public transport is easy with Hairmyres train station less than a 30 minute walk away.
The East Kilbride clinic is just 15 miles south of Glasgow and can be accessed from Glasgow using the M77 and A726. There are also direct trains from Glasgow Central to Hairmyres station taking around 30 minutes.
All Tests Available At East Kilbride
We offer a wide range of discreet and confidential STD tests that you can take at one of our private clinics or in the comfort of your own home. Filter the tests using the categories listed below and click on the test cards to find out more about the procedures.
Filter
All Tests
Most Popular
Profile Tests
Early Detection Tests
Instant Tests
Quick Turnaround
Individual Tests
Chlamydia Tests
Gonorrhoea Tests
HIV Tests
Syphilis Tests
Genital Herpes Tests
Hepatitis Tests
Pre-pregnancy & IVF
Visa & Travel
Other Tests
Sample Requirements Key:
Blood
Urine
Swab