Sexual Health Clinics in Glasgow
Your Sexual Health offers four private sexual health clinics located across the Glasgow area. Each clinic offers a range of testing options, including individual and Comprehensive Tests. Browse our clinics below or get in touch with us on 0161 504 7187 to find a local sexual health clinic in Glasgow that suits your needs. Alternatively, use the live chat button below.
Our Sexual Health Clinics in Glasgow
We have four sexual health clinics in Glasgow and the surrounding areas, including clinics in Motherwell and East Kilbride. Our clinics are easy to visit around your own schedule, with public transport connections and some clinics offering evening and weekend appointments. Browse our clinics below to find the one closest to you.
Glasgow - Central
Hope Street, Glasgow.
Great availability

Good public transport

Evening & weekend appointments
Our Central Glasgow clinic is a stone throw away from Glasgow Central train station on Hope Street. The clinic offers excellent access to private STI tests for anyone living or working in the city. It's location near the train station makes this an excellent and convenient location for anyone who commutes via Glasgow Central.
Motherwell
Draffen Street, Motherwell. ML1 1NJ
Great availability

Good public transport

Evening & weekend appointments

Onsite parking
Our Motherwell clinic is located in Cleland, just a short 10 minute drive from Motherwell town centre. The clinic is also easily accessible from Glasgow via the M8 and is just 16 miles to the South East of the city centre. Cleland Railway station is just a short walk from the clinic.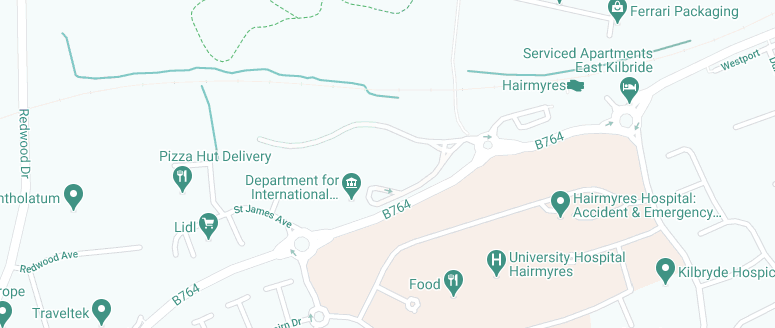 East Kilbride
Redwood Crescent, East Kilbride, Scotland, G74 5PR
Great availability

Good public transport

Onsite parking
The East Kilbride clinic is just 15 miles south of Glasgow and can be accessed from Glasgow using the M77 and A726. There are also direct trains from Glasgow Central to Hairmyres station taking just 30 minutes.
Tests Available at Our Glasgow Sexual Health Clinics
Our private clinics across the Glasgow area offer a wide range of sexual health tests to check for STDs in a safe and comfortable environment. If you're looking for a full STD checkup, browse our Profiling Tests, which test for more than one STD using the same sample. Feel free to contact our friendly team if you need advice on which test to choose.
What Should You Expect From a Sexual Health Clinic in Glasgow?
Your Sexual Health clinics offer the most comprehensive STD testing across Scotland, with friendly and discreet service, and quick turnaround times. Our sexual health clinics in Glasgow test for all common STDs with specific tests and profile tests that check for multiple sexual health concerns. 
Our team is available to help you right from the start, from helping you to choose the right rest for you to arranging prescriptions with our partnered pharmacies. The entire process is completely private and won't be added to your medical records.
Choose from our wide range of STD tests and complete your booking. We'll then confirm your appointment for you to come into the clinic to deposit your sample. Once the lab has finished analysing it, your results will be available on our secure portal, and we'll make sure to arrange any follow-up appointments with your GP should they be required.
Before you book an appointment for an STD test, read our FAQs below for more information. If you're looking for different information, check out our blog for sexual health-related advice. For any questions you still may have about our services, don't hesitate to get in touch with our team.
Where and how you decide to test for STDs depends on your own preference and how far you may be from one of our clinics in Glasgow. Here at Your Sexual Health, we aim to make everyone feel comfortable and safe when getting a sexual health screening, which is why we offer several options. Home testing involves a kit being posted out to you to take your own samples, whilst our clinic tests involve you visiting a clinic where they will collect your sample.
Your Sexual Health's private STI clinics are located in the city centre and across Glasgow's neighbouring towns. You'll find our clinic in the City Centre of Glasgow on Hope Street, near Glasgow Central railway station, and further clinics in Motherwell, Shawlands, and East Kilbride.
The frequency that you should take an STD test depends on a number of factors, including: 
How often you have unprotected sex

How many sexual partners you've had 

If you're in a long-term monogamous relationship

If you have had any high-risk encounters (such as sexual contact with sex workers)
We always encourage everyone to undergo a general 'sexual health MOT' every year, testing for chlamydia, gonorrhoea, syphilis and HIV. If you're single and you've had multiple sexual partners, we would recommend more regular testing.
In the case of a laboratory test, once you've deposited your sample it will be packed and sent to our laboratory for medical testing against the conditions that you've chosen. Turnaround times for each laboratory test vary and you can find more information on our private STI tests page.
For Instant Tests, the nurse or phlebotomist will take your sample and mix it with the buffer. This will diagnose if any trace of an STD is present and will offer results in less than 30 minutes.
If any of your tests return positive you'll be offered a free telephone GP consultation from our partner medical organisation to answer any questions or queries that you may have about your condition. We'll also be able to offer you a prescription so that you can get the medical treatment that you require.
It's often many people's instinct to get tested straightaway following unprotected sex or a one night stand. Unfortunately, some STDs take time to present in the body, therefore needing a certain amount of time to pass before testing to get accurate results.
This time in between, is known as the incubation period. It's the time that the infection needs to reach a detectable level in the body. In the case of most viral testing this period is a little longer because the tests require your body to produce antibodies in order to detect it.
You can see the accuracy dates on each of our tests before booking. Testing before these times have passed will result in false negatives, meaning you'll need to retest at a later date to get treatment or you might think you're clear and pass the STD to future sexual partners.
The service offered by Your Sexual Health offers a more discreet and confidential testing option than NHS testing. Here are just some of the reasons to choose us: 
Discreet and confidential service where the only people who know about your test are you and us. Your results won't be added to your regular medical records

Clinics across Glasgow and the wider region which means you'll be able to find the most suitable option for you

Appointment service allowing you to fit your tests around your schedule

Competitive pricing for a range of tests

Free certification should it be required

GP health advice and prescriptions if your test comes back positive
Book Your Sexual Health Clinic Appointment In Glasgow
If you are based in and around Glasgow or Scotland, select the most convenient clinic within the region for you, and then you will be able to schedule your sexual health appointment. If you have any questions, please contact our customer service team for further information, they will be happy to assist you.