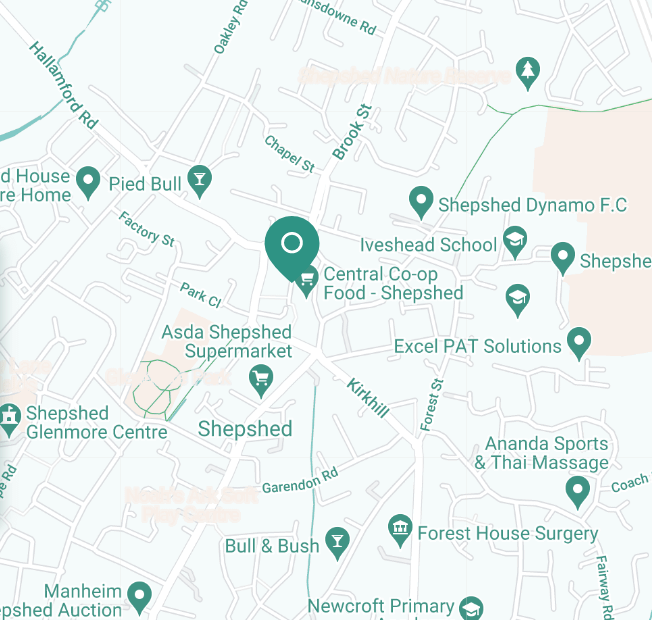 Loughborough
Loughborough, Leicestershire, LE12 9AN
Great availability

Good public transport

Evening & weekend appointments
WHERE IS OUR LOUGHBOROUGH SEXUAL HEALTH CLINIC?
Our private sexual health clinic in Loughborough is located less than a 20-minute drive away from the Loughborough town centre. The clinic is also 30 minutes away from Leicester by car, which means it's easy to get to if you are travelling from there. There are good transport links as well with regular buses from Loughborough town centre.
WHAT STD TESTING IS AVAILABLE AT THE LOUGHBOROUGH CLINIC?
You can get tested for every common sexually-transmitted disease, including Chlamydia, Gardnerella Vaginalis, Hepatitis B and C, Herpes, HIV and more. Choose from our popular Premium Profile test that checks for 11 different STIs or opt for a test that checks for one or two diseases at a time, Scroll further down this page to find all tests that are available at our Loughborough sexual health clinic.
WHAT HAPPENS ONCE YOU'VE DEPOSITED MY SAMPLE?
Once your sample is taken, we will send it to our laboratory where it will be analysed. Most of our tests have a 2 to 5-day turnaround, so you will get the results back within days. If you get a positive result, you will get a free telephone consultation with a GP who can advise on the next steps. Book an appointment now or get in touch if you have any questions.
All Tests Available At Loughborough
We offer a wide range of discreet and confidential STD tests that you can take at one of our private clinics or in the comfort of your own home. Filter the tests using the categories listed below and click on the test cards to find out more about the procedures.
Filter
All Tests
Most Popular
Profile Tests
Early Detection Tests
Instant Tests
Quick Turnaround
Individual Tests
Chlamydia Tests
Gonorrhoea Tests
HIV Tests
Syphilis Tests
Genital Herpes Tests
Hepatitis Tests
Pre-pregnancy & IVF
Visa & Travel
Other Tests
Sample Requirements Key:
Blood
Urine
Swab