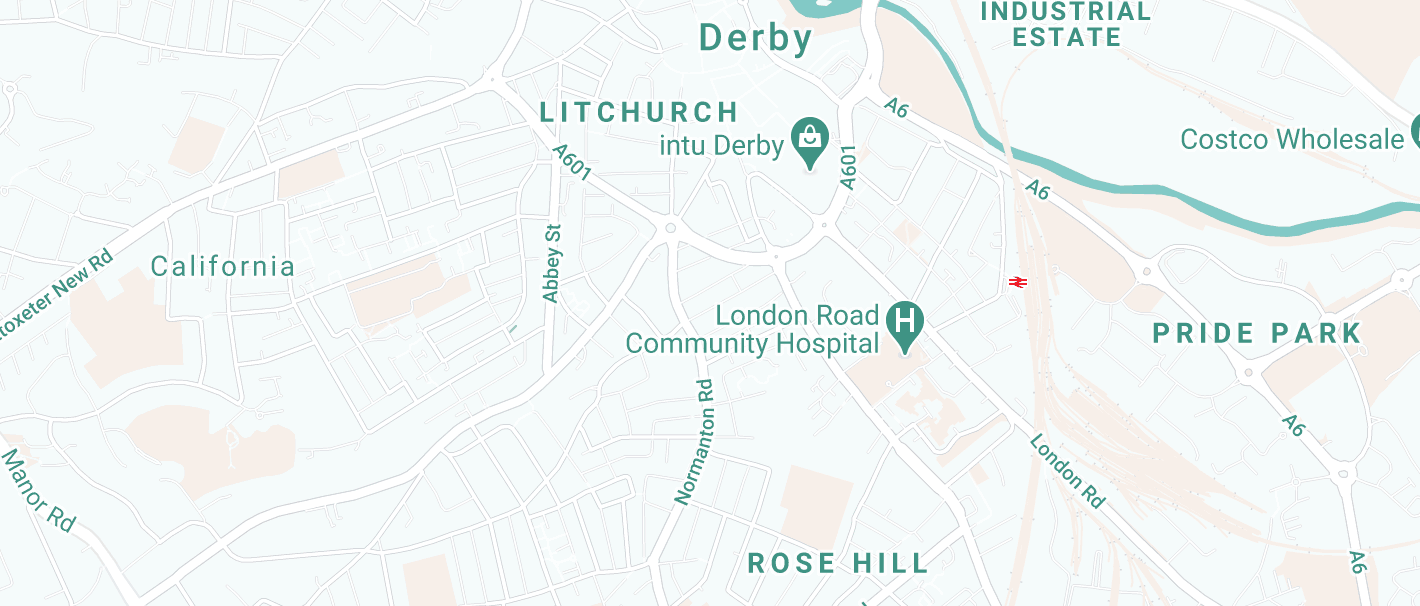 Derby
Charnwood Street, Derby. DE1 2GU
Great availability

Good public transport

Evening & weekend appointments
WHAT TO EXPECT FROM OUR PRIVATE STI TESTING IN DERBY?
Your Sexual Health has a private sexual health clinic on Charnwood Street in Derby offering a wide range of private STI tests for all common conditions. The service ensures that all testing is discreet and confidential. Simply book an appointment at a time that suits you, arrive at the clinic and deposit your sample to submit for testing. We will notify you in a matter of days with your results. 
WHERE IS THE PRIVATE STD CLINIC IN DERBY?
Our Derby private STI clinic is located on Charnwood Street, south of the city centre below the ring road. The clinic is a 5 minute walk from Intu Derby shopping centre and is between Osmaston Road and Normanton Road. The clinic is a 0.6 mile walk or a 5 minute taxi ride from Derby train station. If you are driving, there is on street parking or an NCP car park located on Babington Lane which is a five minute walk away.
All Tests Available At Derby
We offer a wide range of discreet and confidential STD tests that you can take at one of our private clinics or in the comfort of your own home. Filter the tests using the categories listed below and click on the test cards to find out more about the procedures.
Filter
All Tests
Most Popular
Profile Tests
Early Detection Tests
Instant Tests
Quick Turnaround
Individual Tests
Chlamydia Tests
Gonorrhoea Tests
HIV Tests
Syphilis Tests
Genital Herpes Tests
Hepatitis Tests
Pre-pregnancy & IVF
Visa & Travel
Other Tests
Sample Requirements Key:
Blood
Urine
Swab

Sexual Health Clinic Derby FAQs
Your Sexual Health only shares your information between you, the clinic and the laboratory. All information is passed through an online portal and is deleted after a short amount of time.

The information shared by us with you will not appear on your medical records unless you expressly ask.

Your diagnosis may be relevant to future health assessments, in which case we may offer to pass on the information to help you seek medical treatment. This is addressed on a case-to-case basis and can be rejected at your request.
Chlamydia is the most commonly reported STD in the UK; 978,307 chlamydia tests were carried out among young people aged 15 to 24 years in 2021, a
4% increase compared to 2020
.