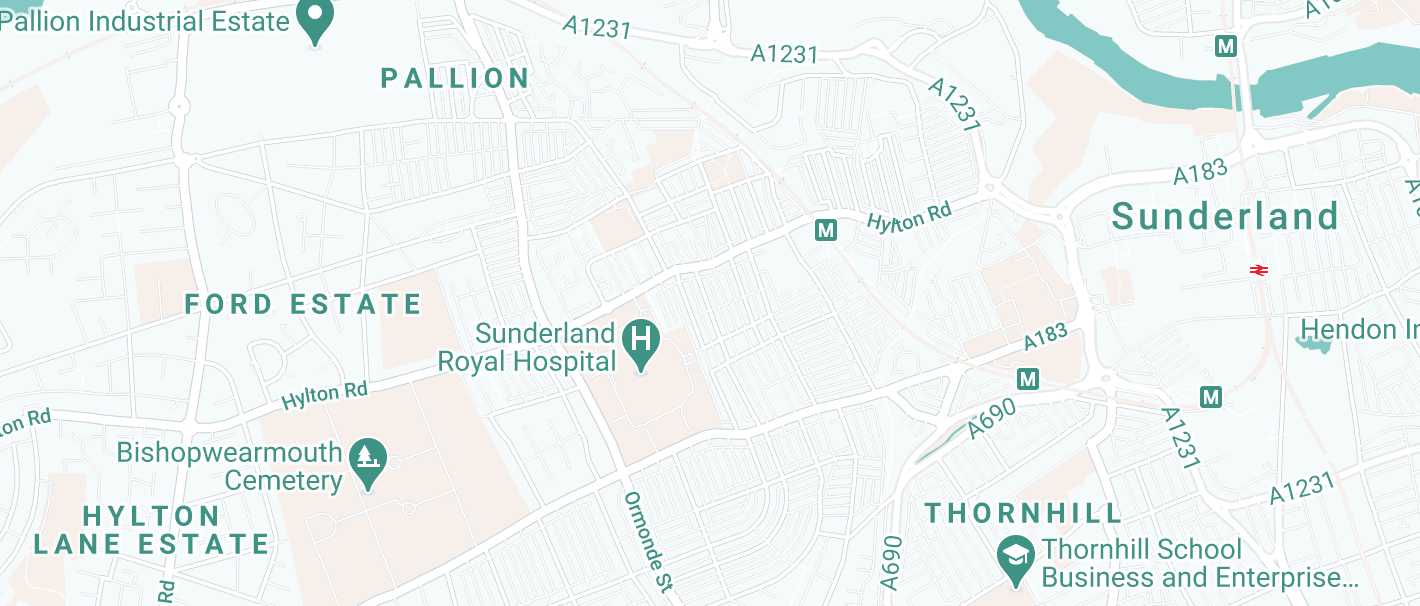 Sunderland
Chester Road, Sunderland, SR4 7JA
Great availability

Good public transport

Evening & weekend appointments
WHAT TO EXPECT FROM OUR PRIVATE STI TESTING IN SUNDERLAND?
Your Sexual Health has a private sexual health clinic on Chester Road in Sunderland offering a wide range of STD tests. During the entire process, all tests will be kept strictly confidential and discreet. For you to have a test, simply book an appointment at a time that suits you and arrive at the clinic to deposit your sample. We will then notify you of your results in a matter of days.
WHERE IS THE PRIVATE STD CLINIC IN SUNDERLAND?
Our Sunderland private STI clinic is based on Chester Road, a 15 minute walk west of the city centre. The clinic is located opposite the south east side of the Sunderland Royal Hospital and there is on street parking within the surrounding suburbs of the clinic. It is a mile walk from Sunderland train station and a 5 minute taxi ride. There are also great public transport links from the city centre.
WHAT HAPPENS ONCE MY SAMPLE IS DEPOSITED IN THE CLINIC IN SUNDERLAND?
Once you have deposited your sample, you will be expected to await your results. The wait period is between 3 and 5 days for most of our tests. Sometimes a test takes longer due to a busy weekend period. If you have been asked to wait for longer than you had originally expected, don't take this as a sign of a positive result. Wait times are due to many factors that aren't indicative of a result being either positive or negative.
You will have to access your results through our portal which is where you log in to our service.
All Tests Available At Sunderland
We offer a wide range of discreet and confidential STD tests that you can take at one of our private clinics or in the comfort of your own home. Filter the tests using the categories listed below and click on the test cards to find out more about the procedures.
Filter
All Tests
Most Popular
Profile Tests
Early Detection Tests
Instant Tests
Quick Turnaround
Individual Tests
Chlamydia Tests
Gonorrhoea Tests
HIV Tests
Syphilis Tests
Genital Herpes Tests
Hepatitis Tests
Pre-pregnancy & IVF
Visa & Travel
Other Tests
Sample Requirements Key:
Blood
Urine
Swab

FAQS
Your Sexual Health is a private clinic that offers quick and confidential STI tests in Sunderland and all over the UK. The advantages of private practices are much quicker turnaround times on results. Our service offers a turnaround time of 3-5 days whereas an NHS screening can take up to 3 weeks.

You might have a few reasons to visit a sexual health clinic in Sunderland. If you are looking for ongoing sexual health advice or a free sexual health screening then you may want to visit your local NHS provider.
A sexual health test is a screening for STIs. You will be asked a number of questions and have a sample taken of either your blood, urine or cells through a swab of any possibly infected area.
These samples will then be sent off to one of our dedicated laboratories where we will assess for STIs. We can test for:
Chlamydia
Gonorrhoea
Syphilis
HIV
Hepatitis B
Hepatitis C
Genital Herpes
Mycoplasma
You will receive your results within
3-5 days
which is quicker than tests offered by the NHS, which can take up to
3 weeks
to receive your results.
You don't need to do anything out of the ordinary for an STI test. Overly cleaning, shaving or the use of fragranced products are not recommended as they can alter or wash away the cells that are being sampled.

You should also try not to wee for at least 2 hours before your sample is due to be provided. This is only necessary for a urine sample, however.

We also don't recommend consuming excess alcohol the day before your test as this can cause alterations in your blood or urine samples.