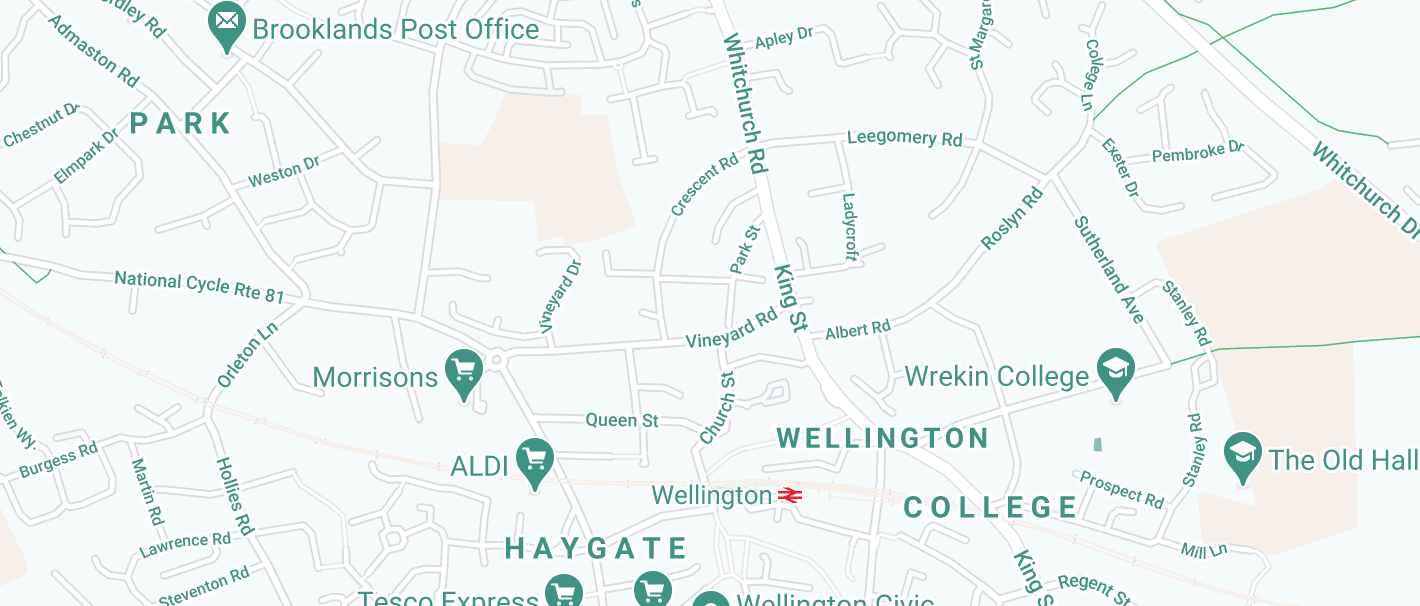 Telford
Church Street, Wellington, Telford. TF1 1DD
Great availability

Good public transport

Evening & weekend appointments
WHAT TO EXPECT FROM OUR PRIVATE STI TESTING IN TELFORD?
Your Sexual Health has a private sexual health clinic on Church Street in Wellington, Telford offering an extensive range of STD tests for all the common conditions. The process is completely confidential and discreet and is very simple to do. Book your appointment with your clinic at a time that is convenient and then arrive at the site to deposit your sample. Then it will only take a matter of days for your test results to get back to you. 
WHERE IS THE PRIVATE STD CLINIC IN TELFORD?
Our private sexual health clinic is based on Church Street in Wellington, Telford and is only a 2 minute walk west from Wellington train station. Located just north of Wellington town centre and the rail line, there is limited on-street parking. However, there is Wellington station car park which is a 5-minute walk east. Perfect for anyone driving from Shrewsbury and the nearby area. 
WHAT HAPPENS ONCE MY SAMPLE IS DEPOSITED IN THE CLINIC IN TELFORD?
Once you have deposited your sample at our clinic, we will be in touch with you in a matter of days. Our usual turnaround time is 3 to 5 days. If your sample needs to be tested over a weekend then you may have an additional day to wait before receiving your result.
You shouldn't assume that the longer your sample stays with us is indicative of a positive result. Sometimes results take longer to show on a sample-to-sample basis.
All Tests Available At Telford
We offer a wide range of discreet and confidential STD tests that you can take at one of our private clinics or in the comfort of your own home. Filter the tests using the categories listed below and click on the test cards to find out more about the procedures.
Filter
All Tests
Most Popular
Profile Tests
Early Detection Tests
Instant Tests
Quick Turnaround
Individual Tests
Chlamydia Tests
Gonorrhoea Tests
HIV Tests
Syphilis Tests
Genital Herpes Tests
Hepatitis Tests
Pre-pregnancy & IVF
Visa & Travel
Other Tests
Sample Requirements Key:
Blood
Urine
Swab

FAQS
Your sexual health check-up will consist of a small number of questions relating to your sexual practices and safety. These questions will consist of:
When did you last have sex?
Whether you've had unprotected sex.
Whether you have any symptoms.
Why do you think you might have an infection?
For a number of reasons, you may find these questions insensitive. If that is the case then you can refuse to answer any questions asked. However, answering the few questions asked in your screening will lead to a more accurate assessment of your sexual health.
You will then be asked to provide either a urine, blood or swab sample based on the advice of the sexual health practitioner present.
Some sexually transmitted diseases can be detected through a urine sample. A urinalysis can give clues to the presence of sexually transmitted infections. A positive test for leukocyte esterase or increased numbers of white blood cells in the exam is suggestive of chlamydia or gonorrhoea infection.
Your Sexual Health provides hassle-free and completely confidential
STI urine tests
which test for chlamydia or gonorrhoea quicker than the tests offered by the NHS.
It is our advice that you get tested if you have any concerns about your sexual health.

It's considered to be good practice to get a sexual health check-up before starting with a new partner. Relationships can be tricky during the first few encounters, and passing an STI onto a new partner is not only embarrassing for you but could lead to medical consequences for both of you.