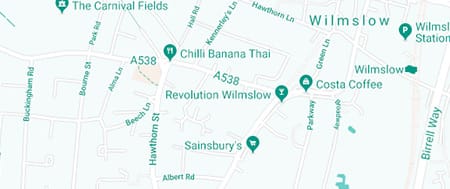 Wilmslow
Alderley Rd, Wilmslow. SK9 1NY
Great availability

Good public transport

Evening & weekend appointments

Onsite parking
What to expect from your private sexual health clinic in Wilmslow
Situated in the town centre, Your Sexual Health can carry out a range of private STD testing in Wilmslow. Simply select the testing package which best matches your requirements and choose a suitable appointment time. When you arrive for your appointment a medical professional will offer you advice and assistance for depositing your sample. Your Sexual Health offer 100% confidentiality to ensure that your visit is as stress free as possible.
Where you will find us
Located on Alderley Road in Wilmslow town centre our clinic is easily accessible by car with parking available nearby. The private sexual health clinic is also a short walk from Wilmslow train station making it ideal for those who need to commute. Wilmslow is situated in Cheshire to the south of Manchester and Stockport and provides those who live outside Manchester city centre a more accessible location.
Following your tests
Turnaround times are dependent on the test and range from 4 hours to 5 days. Your results are returned via a previously agreed method, usually by phone. If your tests return positive you will be offered a telephone appointment with a GP from our partner medical organisation who will offer you advice on the effective treatment and management of the condition.
All Tests Available At Wilmslow
We offer a wide range of discreet and confidential STD tests that you can take at one of our private clinics or in the comfort of your own home. Filter the tests using the categories listed below and click on the test cards to find out more about the procedures.
Filter
All Tests
Most Popular
Profile Tests
Early Detection Tests
Instant Tests
Quick Turnaround
Individual Tests
Chlamydia Tests
Gonorrhoea Tests
HIV Tests
Syphilis Tests
Genital Herpes Tests
Hepatitis Tests
Pre-pregnancy & IVF
Visa & Travel
Other Tests
Sample Requirements Key:
Blood
Urine
Swab