Private Sexual Health Clinics In Manchester
For relaxed and discreet sexual health testing visit one of our private sexual health clinics located across Greater Manchester, all offering a range of tests against common STDs such as HIV, herpes, chlamydia, and more. Our service is simple, with laboratory results and a quick turnaround no matter the clinic you visit. To get tested, simply book an appointment at your chosen clinic today.
PRIVATE SEXUAL HEALTH CLINICS IN MANCHESTER
Browse our range of clinics located across Greater Manchester below to find a location that suits you. We have clinics located in Didsbury, Wilmslow, Deansgate and Central. All of our Manchester clinics offer evening and weekend appointments to suit a busy working week and have excellent transport links for easy access.
Can't find a suitable location? Contact one of our friendly team who can advise on the next best option.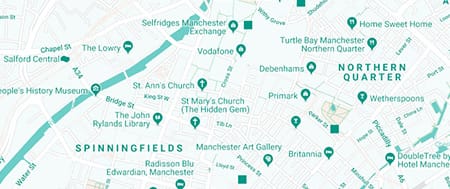 Manchester - Central
King Street, Manchester, M2 4PD
Great availability

Good public transport

Evening & weekend appointments
Our Manchester - Central clinic is on King Street and is easily accessible for those living or working in the city. There is street parking available along both sides of the road and in the surrounding area of the clinic, whilst we're just a short walk from Manchester's main transport hubs.
Didsbury
Wilmslow Rd, Didsbury, Manchester. M20 2DW
Great availability

Good public transport

Evening & weekend appointments
Our Didsbury clinic is located on Wilmslow Road, offering excellent access to our clinic testing for anyone living or working in South Manchester. It's just a short walk from the Didsbury Village Metro stop and roadside parking is available nearby.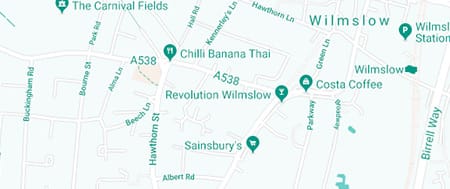 Wilmslow
Alderley Rd, Wilmslow. SK9 1NY
Great availability

Good public transport

Evening & weekend appointments

Onsite parking
Our Wilmslow clinic is a short walk from Wilmslow train station. Wilmslow is situated in Cheshire to the south of Manchester and Stockport and provides those who live outside Manchester City Centre a more accessible location.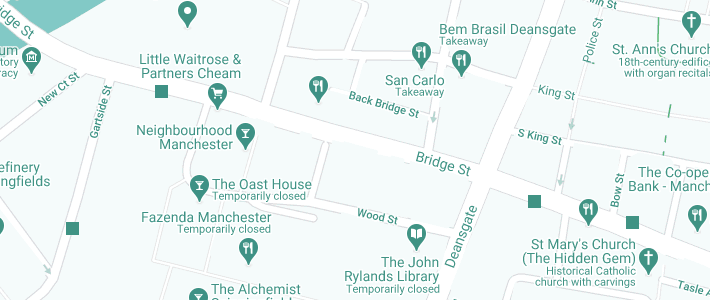 Manchester - Deansgate
Bridge Street, Manchester. M3 2RJ
Great availability

Good public transport

Evening & weekend appointments
Our Deansgate clinic is located on Bridge Street, just off Manchester's Deansgate – one of the main shopping and entertainment areas within Manchester. The clinic is easy to visit using public transport, with bus stops right outside the clinic. The clinic is handily located near Salford Central and Deansgate station. 
PRIVATE STD TESTING IN MANCHESTER
At Your Sexual Health, we offer a range of private sexual health tests and screenings at our locations across Greater Manchester. This includes our comprehensive profile tests which offer you the opportunity to get tested for all the common STDs, or our instant testing options to reduce your wait time, discover our full range of tests available using our test finder.
WHAT TO EXPECT FROM OUR PRIVATE STD CLINICS IN MANCHESTER
We pride ourselves on providing a simple and discreet process at our clinics. Simply choose from one of our testing packages and book an appointment for a time and location that suits you. Arrive at the clinic for your chosen appointment time, to avoid waiting. When you arrive, one of our excellent and friendly staff members will greet you and collect your sample and send it off for testing on the same day to the lab. From this point you have nothing to worry about; we do the rest. Simply relax and wait to hear back about your results.
INSTANT STI TESTS IN MANCHESTER
If you need to get tested, but you don't want to have to wait for laboratory results, then our instant tests are perfect for you. Benefit from the same discreet service, but receive your results in under half an hour while you wait in the clinic. Our instant tests can diagnose HIV, chlamydia, gonorrhoea, syphilis and herpes.
Want to learn more about us and our facilities in Manchester? Read our frequently asked questions below. For more sexual health information read our blog, where we discuss all things sexual health related from symptoms to prevention.
STD stands for Sexually Transmitted Diseases but can also be known as STIs (Sexually Transmitted Infections). They are passed from one person to another typically during vaginal, oral, and anal sex.
Symptoms of an STD will manifest themselves differently based on the type of STD you have. Below we've highlighted some of the common symptoms of an STD:
Unusual discharge from the vagina or penis 

Pain whilst urinating 

Painful sores or warts around your genitals

Abnormal vaginal bleeding in between periods 
These are just some of the symptoms you may experience, but if you are experiencing any of these we highly recommend visiting a clinic and being tested for STDs, and refraining from sexual contact until you have negative results to prevent spreading. Not all people who have an STD will experience symptoms; they may be asymptomatic, which is why we recommend a full sexual health screening every six months or between partners.
Your Sexual Health Clinics are located in both the city centre and outside to accommodate wherever you may be based. You'll find our clinics located on King Street in Central Manchester, Wilmslow, Didsbury and Deansgate. We have locations throughout the UK so if you are looking for a clinic close to you use our locations page. 
If you are unable to get to one of our clinics we do offer home testing kits, where you can use the same sample to test for a range of common STDs.
Testing regularly for STDs is a great addition to your routine when you are sexually active as it can prevent you from unknowingly passing the infection to other people and can ensure you get the right course of treatment prescribed to you. We've listed a few reasons why you should get tested:
If you're experiencing any of the common symptoms of STDs

If you've had sexual contact with someone who is at high risk of carrying or contracting STDs (such as a sex worker)

If you are about to enter a sexual relationship with a new partner

If you are trying for a baby or are about to receive IVF treatment 

If you are required testing to either start a new job or move to a country that requires an HIV certification. 
Find out more about when to get tested in our recent blog.
The service offered by Your Sexual Health offers a more discreet and confidential testing option to NHS testing. Here are just some of the reasons to choose us: –
Discreet and confidential service where the only people who know about your test are you and us
Clinics across Manchester which means you'll be able to find the most suitable option for you
Appointment service allowing you to fit your tests around your schedule
Competitive pricing for a range of tests
Book Your STD Test in Manchester
If you are based in and around Manchester, choose your most convenient clinic and time and schedule your sexual health appointment with us.
If you have any questions about what we offer please feel free to contact our friendly team, who are happy to assist you with any further questions you may have.