Private Sexual Health Clinics In Liverpool
We have multiple private sexual health clinics in the Liverpool, Cheshire and Lancashire areas all offering a range of discreet and confidential STD tests from comprehensive profiling to instant result testing. Simply book your appointment, arrive at your chosen time so we can collect your sample and let us do the rest. Find out more about our Liverpool clinics and testing options below.
OUR PRIVATE SEXUAL HEALTH CLINICS IN LIVERPOOL
Browse our range of sexual health clinics in Liverpool and nearby cities below to select the most convenient clinic for you. All our clinics offer a discreet and private setting when undergoing your test and all our staff are there to support and make you feel as comfortable as possible throughout your process. Some of our Liverpool sexual health clinics offer weekend and evening appointments so we are available when it is convenient for you.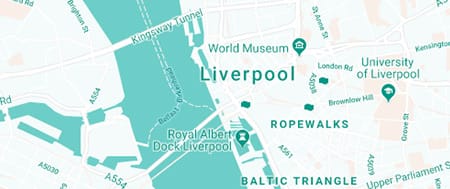 Liverpool
St Paul's Square, Liverpool. L3 9S
Good public transport
Our STD clinic in Liverpool is situated near to the Princess Docks in the Moorfields area of the city, situated in St. Paul's Square. Pay and display street side parking is available nearby on Earl Street for those visiting the clinic. The clinic is 15 minutes' walk away from Liverpool Central Station.
Newton-le-Willows
Belvedere Road, Newton-le-Willows. WA12 0JJ
Great availability

Good public transport

Evening & weekend appointments

Onsite parking
Our private STD clinic in Newton-le-Willows is located on the Belvedere Road and Crow Lane intersection. The clinic offers excellent access to testing for anyone living or working between Liverpool and Manchester. The clinic has its own large car park and is located just off the M6 at Junction 23.
Sexual Health Clinic in Rossendale
Bank Street, Rawtenstall, Rossendale. BB4 6QS
Great availability

Good public transport

Evening & weekend appointments
The clinic in Rossendale is located on Bank Street which is in the centre of Rossendale. Parking is available both in front and behind the clinic, in Pay & Display car parks. The clinic is accessible out of Manchester via the A56.
TESTS AVAILABLE AT OUR SEXUAL HEALTH CLINICS IN LIVERPOOL
WHAT CAN YOU EXPECT FROM YOUR VISIT?
Once you book an appointment at one of our Liverpool clinics, simply arrive on time, this will reduce your wait time, and you will be greeted by one of our friendly staff members. The practitioner will then take a sample, dependent on what you are testing for; this may be blood, urine or both.
Once we have collected your sample, we will send this to the lab on the same day and we will send you your results through your preferred contact method. At all our clinics we always provide a reliable, professional and discreet service to make sure your process is as comfortable as can be.
If you're looking for more information about sexual health and STD testing, view our FAQs below or look at our blog for industry content and other health advice.
STD results vary depending on the STD you are testing for; we usually send all our samples to the lab at the end of the day but this can also affect results. We've written below the average wait time based on the different STDs you can test for:
HIV – 1-3 working days

Herpes – 3-4 working days

Syphilis – 1-3 working days

Gonorrhoea – 1-3 working days

Chlamydia – 1-3 working days
This is just an average estimation but to find out more about how long it takes for results to come back for different types of STDs with Your Sexual Health compared to that of the NHS, read our recent blog post.
STDs (Sexually Transmitted Diseases) are most commonly caused by sexual contact with another person. The bacteria, parasite or virus that causes the STD is typically passed along by either blood, semen, and other bodily fluids.
Every STD will manifest its symptoms differently and some may not experience symptoms at all. That's why the most effective way to tell if you have an STD is to go and get tested. However below we have listed some of the most common symptoms of STDs:
Unusual discharge from your penis, vagina or anus

Experiencing pain whilst urinating

Lower abdominal pains

Rashes, blisters or warts affecting your genital area

Abnormal bleeding in between periods 
If you are experiencing any of the following symptoms you should be tested or seek help from a medical professional. If you are not sure what STD test you need, contact a member of our customer service team and they would be happy to offer advice.
Your Sexual Health is one of the UK's leading providers of private sexual healthcare. We value our customers as much as they do us. A few of the reasons why you should choose us are:
Convenient weekend and evening appointments available 

We have hundreds of clinics located across the UK to suit your needs 

Home testing

options are available for those who can't or don't want to visit a clinic 

Quick turnaround, reliable profiling and instant tests are available 

A free follow up call is available with a GP to offer advice after a positive result
Book Your Private STD Test In Liverpool
If you are based in or around Liverpool, simply book your appointment and schedule the sexual health test that suits you.
If you have any queries about our facilities and services contact one of our friendly customer service members who are happy to help.