Private STD Clinics in Oxford
Your Sexual Health have two private STD clinics in Oxford offering a wide range of tests against all common STDs. Book your appointment today and benefit from a fast turnaround time and laboratory results that you can trust. Our service is 100% confidential and all of our clinics offer a discreet environment for testing. Choose your test today.
OUR PRIVATE STI CLINICS IN OXFORD
Find out more about our private STD clinics located across Oxford. All of our clinics offer a comfortable and discreet surrounding to get tested, without the busy clinic waiting rooms and inconvenient opening hours that many NHS clinics provide. If you're unsure about anything, don't hesitate to contact our booking team on 0161 660 2599 or by using the live chat function.
Oxford - Cowley
Alec Issigonis Way, Oxford Business Park, Oxford. OX4 2HW
Great availability

Evening & weekend appointments

Onsite parking
Our Oxford - Cowley clinic is located three miles to the east of central Oxford. It's easily accessible from the city centre from Cowley Road, whilst it's also less than 300 metres away from the nearest Eastern Bypass Road Junction, making it accessible from other areas of the city.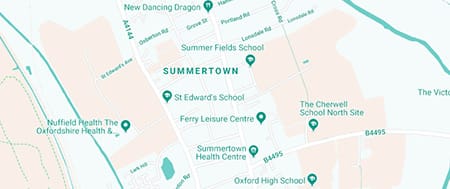 Oxford - Summertown
Banbury Road, Oxford. OX2 7DE
Great availability

Good public transport
The private clinic in Oxford is located 2 miles north of the city centre in Summertown. The clinic is easily accessible from the city centre via Banbury Road. Roadside parking is available directly outside the clinic, whilst there are also other parking options off nearby side streets.
Aylesbury
Castlepark Road, Wendover, Aylesbury. HP22 6AE
Great availability

Onsite parking
Our private clinic in Aylesbury is located to the south of the town in the village of Wendover. The clinic is a 15 minute drive out of central Aylesbury via Wendover Road. Its provides great access to testing for other nearby towns including Luton and Oxford.
OUR PRIVATE STD TESTS IN OXFORD
Your Sexual Health offer a wide range of private STD tests at our Oxford clinics that can diagnose all common sexually transmitted infections. We have tests for a number of purposes, including Early Detection and Quick Turnaround tests. If you are unsure about any of our products, contact our customer services team on 0161 660 2599 or use the Live Chat function.
WHAT CAN YOU EXPECT FROM YOUR VISIT?
We have two private STD clinic located in Oxford, both of which guarantee a discreet and relaxed setting for testing. When you arrive at your appointment, you'll be greeted by a nurse who will assist you in taking your samples before sending they send them to the laboratory. By booking your appointment with us you'll benefit from a fast turnaround time and a completely professional service.
ABOUT YOUR VISIT TO YOUR SEXUAL HEALTH
Find out more about our private STI testing service in Oxford using our frequently asked questions below. For more information contact our customer services team.
Once your sample has been deposited it will sent to our laboratory in London by first class post and will usually be received the day after your initial appointment. Your sample will be tested using the most advanced laboratory methods available in a world leading lab.
As soon as we receive your results you'll be notified using your preferred method of communication and your results will be uploaded to our online portal. In the event that your results return positive you'll be offered a free telephone consultation with a GP from our partner medical organisation. They will answer any questions you may have about the condition and may prescribe antibiotics, should it be required.
Every sexually transmitted infection will affect each patient in a different way and indeed for many they not experience any symptoms at all. For this reason the most effective way to know if you have an STI is to get tested. However, some common symptoms may include: –
Discharge from your penis, vagina or anus
Pain whilst urinating
Lower abdominal pains
Rashes, blisters or sores affecting your genital area
Blood in between periods for women
If you notice any of these symptoms it's important that you are tested or seek medical help. To find the most suitable test for you contact our customer services on 0161 660 2599.
Everyone has their own reasons for getting tested, here are just some of the reasons that might encourage you to get tested: –
Starting a new relationship and you want to ensure you're all clear
If you've had a one night stand but didn't use a condom
General peace of mind testing if you've had more than one sexual partner in the previous year
Before beginning IVF or if you're trying for a baby
To support your VISA application if you're moving to a country that requires HIV free certification
The service offered by Your Sexual Health offers a more discreet and confidential testing option to NHS testing. Here are just some of the reasons to choose us: –
Discreet and confidential service where the only people who know about your test are you and us
Two private STD clinics in Oxford and over 100 more locations nationwide
World leading laboratory with an efficient and fast turnaround time
Appointment service allowing you to fit your tests around your schedule
Competitive pricing for a range of tests
Home Testing options if you decide against attending a clinic