York Sexual Health Clinics
Book your discreet and confidential sexual health test today for lightning quick turnaround and laboratory standard results. Browse our clinics in and around the York area below and choose from a range of comprehensive and individual STD tests.
Our York Sexual Health Clinics
We have three sexual health clinics located in York and the surrounding towns in Yorkshire. Our clinics also cover the Selby and Leeds areas. Most of our clinics are easily accessible via public transport, with some of the clinics offering convenient evening and weekend appointments. Click on your nearest clinic to book your appointment today.
York
Carr Lane, Acomb, York. YO26 5HU
Great availability

Good public transport

Evening & weekend appointments
Our York private sexual health clinic is based on Carr Lane in Acomb, York - 2 miles west of York city centre. Between Acomb Green and West Bank Park, the clinic is 1.5 mile walk from the train station and a 7 minute taxi ride. On street parking and short drive from A1237.
Selby
Hull Road, Cliffe, Selby. YO8 6NH
Onsite parking
Our Selby clinic is located to the east of the town centre in the village of Cliffe. The clinic is easily accessible via A19 from York city centre and is well connected to the M62.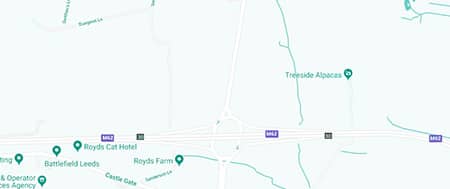 Leeds - Oulton
Wakefield Road, Oulton, Leeds. LS26 8EU
Great availability

Onsite parking
Our private STD clinic in Leeds is to the south of the city, in the village of Oulton. The clinic easily accessible from the M62, and is just a short drive from junction 30 on Wakefield Road. The clinic is located in an extremely discreet location, with a large car park making for convenient access by road.
Our sexual health tests can quickly diagnose common STDs, such as chlamydia, gonorrhoea, and HIV, as well as STDs that the NHS may not test for, such as herpes, Gardnerella, and mycoplasma. If you are wanting test results on the same day as your clinic visit, browse our Instant Testing options, which can generate laboratory-grade results in under half an hour. View more of our STD tests below.
What to Expect From Our Sexual Health Clinics in York
Here at Your Sexual Health, we aim to make anyone who visits our clinic feel safe and comfortable. To book your appointment, simply choose the STD testing package most suited to you and then book the most convenient appointment time. When you arrive at the clinic, our friendly staff will take the samples needed to do the test. If you need to have treatment, our dedicated GPs will give you a call and advise on the best course of action to take.
Instant STI Tests In York
As well as our standard private STI tests, we also offer a wide range of instant STI tests that offer accurate results in under half an hour. Our instant tests come with the same discreet and confidential service and test against HIV, chlamydia, syphilis, gonorrhoea and herpes. These are our most convenient testing option.
If you are looking for more information about our sexual health services in York, read our frequently asked questions below. For more sex-related health advice, visit our blog, where we discuss all things sexual health including symptoms and testing.
STDs don't go away on their own, but luckily most STDs are curable with the right medication. However, there are a small number of STDs that are incurable and, once contracted,  will never go away. Hepatitis B, HIV and Herpes, and HPV are a few examples of these. Find out more about the treatment and incurable STDs in our recent blog post.
We have three sexual health clinics in the North East of England, including a clinic in York town centre on Carr Lane, one in Selby on Hull Road, and another in Leeds on Wakefield Road. All of our clinics are accessible by car or via public transport if you don't drive.
We keep any and all test results confidential at Your Sexual Health, and we don't even share the test with the NHS or anyone else unless you specifically request it and we have your permission.
If your results return positive you'll also be offered a telephone consultation with a GP from our partner medical organisation. They will be able to answer any questions you may have about your diagnosis and will be able to offer advice. The GP will arrange for treatment or onward referral, should it be required. They will be on hand to call to ensure your STD is clearing up as it should.
Your Sexual Health offers a private sexual health screening service that is based on your schedule and needs. With Your Sexual Health, you can:
Keep your results confidential if you want, and records of your test will only be added to your medical file if you request it

Get support from start to finish with our medical advisors and GP team who will follow up with you if you have a positive test result

Experience quiet and minimal times in waiting rooms when attending your appointment

Get discreet

Home Testing Kits

delivered straight to your door if a clinic appointment isn't convenient for you
Book Your Appointment at a Sexual Health Clinic in York