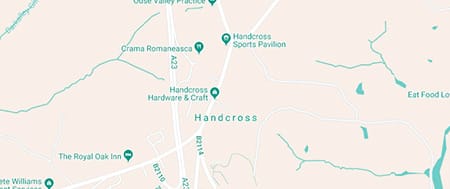 Crawley – Handcross
High Street, Handcross. RH17 6BH
Good public transport

Onsite parking
What to expect from your visit
Your Sexual Health have a private STI clinic in Crawley offering a range of discreet and confidential tests to people living and working South of London. The clinic provides a wide range of sexual health tests in the most convenient manner. Simply choose the test that you require and pick an appointment time that suits you. Once your appointment is confirmed you'll just have to arrive at the clinic to deposit your sample. We'll take care of the rest.
Where is the private STI clinic in Crawley
Our private sexual health clinic in Crawley is situated four miles south of the town centre in the village of Handcross. The clinic has excellent parking available both on site and road side making it excellent for anyone arriving by car. The clinic is ideally situated just off the A23 out of Crawley, providing great accessibility.
What happens after my test?
Once you've deposited your sample at our Crawley clinic it will be taken to our laboratory for testing. Once we have your results you'll be notified via your preferred means of communication of either telephone or email. If your result returns positive you will be offered a free telephone consultation with a GP from our partner medical organisation who will be able to answer any questions that you may have about your condition. You can also receive a prescription service to get you the treatment that you require.
All Tests Available At Crawley – Handcross
We offer a wide range of discreet and confidential STD tests that you can take at one of our private clinics or in the comfort of your own home. Filter the tests using the categories listed below and click on the test cards to find out more about the procedures.
Filter
All Tests
Most Popular
Profile Tests
Early Detection Tests
Instant Tests
Quick Turnaround
Individual Tests
Chlamydia Tests
Gonorrhoea Tests
HIV Tests
Syphilis Tests
Genital Herpes Tests
Hepatitis Tests
Pre-pregnancy & IVF
Visa & Travel
Other Tests
Sample Requirements Key:
Blood
Urine
Swab

Crawley Sexual Health Clinic
Some urgent results, and therefore treatments, can be administered on the same day as the test. This is to cover urgent care, but if blood, urine or swab tests are deemed necessary, then you may expect to get your results in between 2-3 weeks.

Private clinics such as Your Sexual Health can speed up this process to 2-3 days. If your tests will be performed over a weekend, this will take 3 days typically. Speed in turnaround time is a great reason to choose our Crawley sexual health clinic over one provided by the NHS.
A positive test may take longer than a negative due to testing for false positives. If you've taken one of our
same-day tests
and it comes back positive, we will run a second test, which will be inspected in one of our laboratories to ensure it's not a false positive.
A result is rarely lost, and we suggest not taking any extended wait for your results to be indicative of a positive result. In certain cases, such as Herpes Simplex I or II, we may need 5 days to get accurate results, so your results might be delayed by this amount of time to receive an accurate report on your sexual health.
The 5 "Ps" of sexual health are good to remember when considering your or someone you are sexually involved with sexual health. They are used in clinics as an outline of what you, the patient, will be asked about your sexual history to best assess what test you may need.
The 5 "Ps" might not be culturally appropriate for everyone and can be adjusted to your cultural preferences accordingly. They are:
Partners
Sexual Practices
Past History of STDs
Pregnancy Plans
Protection From STDs
Our Crawley Sexual Health Clinic is based on the High Street in Handcross. We can offer you a full sexual health screening where we will test you for all major sexually transmitted diseases.