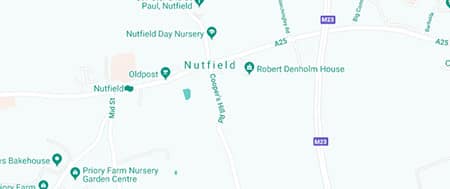 Surrey – Nutfield
Bletchingley Road, Nutfield, Surrey. RH1 4HW
Great availability

Good public transport

Onsite parking
What to expect from our private sexual health clinic in Surrey
Your Sexual Health offer private STI testing in Surrey from our clinic location in Nutfield. Our testing allows people to receive confidential and discreet STI testing at a time that's convenient for them. The service could not be easier, simply choose from our wide range of private tests and book an appointment time that's suitable for you. From there you simply have to turn up at your appointment to deposit your samples and we take care of the rest. Simple and accurate honest testing without long NHS queues.
Where is the private STI clinic in Surrey?
Our private sexual health clinic in Surrey is located in Nutfield, providing excellent access to private testing for anyone living or working south of London. It provides great access from both the M23 and M25 and with a substantial sized car park arriving by road is simple and easy. The clinic is located 12 miles south of Croydon and 12 miles north of Crawley in the east of Surrey.
What happens once I've deposit my sample?
Once you've deposited your test sample it will be taken to one of our labs for testing. Our results offer the same standards of accuracy as NHS tests and you will be notified of your results via your preferred contact method –  either telephone or email. If your test returns a positive result you will receive a free telephone consultation from a GP at our partner medical organisation. They will explain your future treatment options.
All Tests Available At Surrey – Nutfield
We offer a wide range of discreet and confidential STD tests that you can take at one of our private clinics or in the comfort of your own home. Filter the tests using the categories listed below and click on the test cards to find out more about the procedures.
Filter
All Tests
Most Popular
Profile Tests
Early Detection Tests
Instant Tests
Quick Turnaround
Individual Tests
Chlamydia Tests
Gonorrhoea Tests
HIV Tests
Syphilis Tests
Genital Herpes Tests
Hepatitis Tests
Pre-pregnancy & IVF
Visa & Travel
Other Tests
Sample Requirements Key:
Blood
Urine
Swab