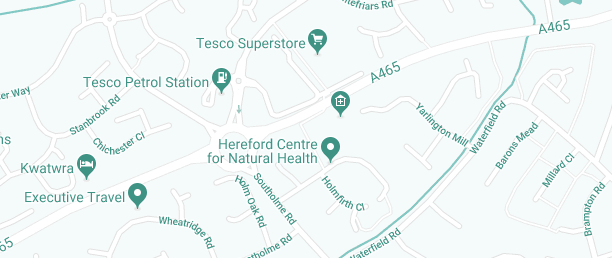 Hereford – Belmont
Eastholme Avenue, Belmont, Hereford. HR2 7XT
Great availability

Evening & weekend appointments

Onsite parking
What to expect from our private STD clinic in Hereford?
Your Sexual Health have a private sexual health clinic in Hereford offering a wide range of discreet and confidential STD tests. Benefit from a fast turnaround time and accurate laboratory results you can trust. Simply choose the test that you require and pick an appointment time that suits you. Once your appointment is confirmed, arrive at the clinic where a nurse will take your sample for testing. 
Where is the Hereford – Belmont clinic?
Our Hereford – Belmont clinic is located to the west of Hereford City Centre on Eastholme avenue, in the Belmont area of the city. The clinic offers excellent access to testing for anyone living or working in Hereford and is easily accessible via the A49 and A465 out of the city centre. The clinic is located near a number of the city's main bus routes and there is a large car park for those arriving by car. 
What happens once I've deposited my sample?
Once you've deposited your sample it will be sent to our laboratory for testing. Turnaround time for results is dependent on the test that you require, but once we have your results they will be communicated via your preferred contact method before we upload them to our website. In the event that your results return positive you'll also be offered a free telephone consultation with a GP from our partner medical organisation. They will answer any questions you may have and they can arrange a prescription for you should it be required.
All Tests Available At Hereford – Belmont
We offer a wide range of discreet and confidential STD tests that you can take at one of our private clinics or in the comfort of your own home. Filter the tests using the categories listed below and click on the test cards to find out more about the procedures.
Filter
All Tests
Most Popular
Profile Tests
Early Detection Tests
Instant Tests
Quick Turnaround
Individual Tests
Chlamydia Tests
Gonorrhoea Tests
HIV Tests
Syphilis Tests
Genital Herpes Tests
Hepatitis Tests
Pre-pregnancy & IVF
Visa & Travel
Other Tests
Sample Requirements Key:
Blood
Urine
Swab