Sexual Health Clinics Leicester
Your Sexual Health has a sexual health clinic located in Leicestershire in the city of Loughborough and the wider East Midlands region, including Sutton Coldfield, Derby and Kettering. At our clinics, we offer a range of sexual health services, including discreet STD testing for a range of common and lesser-known infections. We offer fast turnaround times and high-quality results that you can trust. Our service is 100% discreet and completely confidential.
Our Sexual Health Clinics Around Leicester
We have four sexual health clinics which are located around Leicester's surrounding areas. For those of you who don't drive, most of our clinics in this region are easily accessible via public transport. Our clinic in Kettering, and in Market Harborough offer weekend and evening appointments. All of our clinics offer a comfortable and discreet environment to get tested, without the busy clinic waiting rooms and inconvenient opening hours that many NHS clinics provide. Browse our clinics below to find the one closest to you.
Kettering
Meadow Road, Kettering, NN16 8TL
Great availability

Good public transport

Evening & weekend appointments

Onsite parking
Our Kettering sexual health clinic is located in the centre of town, on Meadow Road. The clinic is easily accessible using public transport, with Kettering station just a 10 minute walk away. Those driving to the clinic from further afield can do so via the A14 from both the M1 or A1. 
Nottingham - Carrington
Cannon Street, Sherwood, Nottingham, NG52HB
Great availability

Good public transport

Onsite parking
Our private STI clinic in Nottingham is located on Mansfield Road. The clinic offers excellent access to private sexual health testing for anyone living and working in the city. The clinic is located 1.4 miles north of the city centre and is easily accessible via the A60 from the city centre.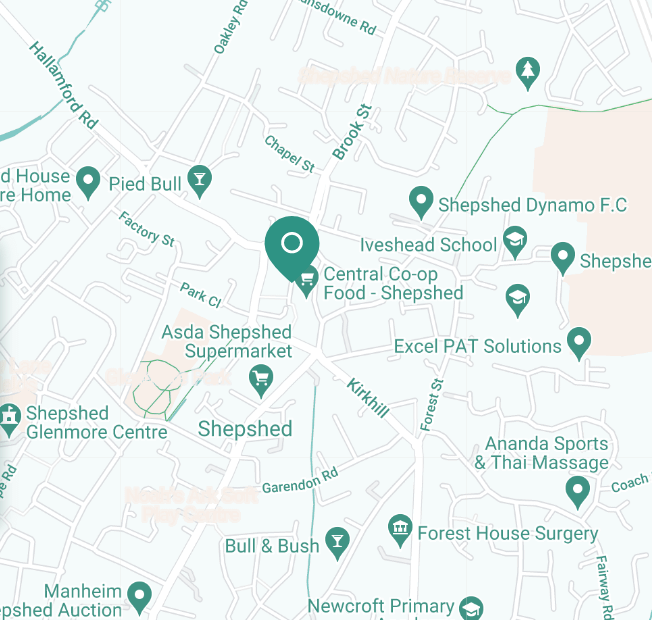 Loughborough
Loughborough, Leicestershire, LE12 9AN
Great availability

Good public transport

Evening & weekend appointments
Our private sexual health clinic in Loughborough is located less than a 20-minute drive away from the Loughborough town centre. The clinic is also 30 minutes away from Leicester by car, which means it's easy to get to if you are travelling from there. 
Testing Options at Our Sexual Health Clinics Near Leicester
We offer tests to suit every individual's needs. We offer Individual Tests for those looking to check for one STD, as well as Profiling Tests to check for more than one. If you're about to start trying for a baby, or IVF treatment, view our Pre-Pregnancy Tests. For quick results in under half an hour, you may want to try our Instant Testing options which allow you to get your results before you leave the clinic.
What Should You Expect From a Sexual Health Clinic in Leicester?
Once you've found the nearest and most convenient clinic in the Leicester area, then you can book an appointment to fit your timetable. Once booked, then you can visit our clinic where a nurse practitioner will take your sample. Our clinics offer a relaxed setting to deposit your sample with no busy clinic waiting rooms.
In addition, because our clinics are all general health clinics, no one will know why you're attending. When your sample has been collected, it will be sent to our nearest laboratory, and your results will be sent to you within a few days.
Book Your Private STD Test In Leicester
If you want to find out more about STDs, common symptoms, and the testing process, view our frequently asked questions below. Alternatively, get in touch with our customer service team who will be happy to answer any questions you may have.
Currently, we don't offer a clinic based in the heart of Leicester. We do have a clinic which is a short drive or train journey away, based in Loughborough, Leicestershire.
If you are based in Leicester and are looking for private sexual health screening, then why not consider completing a Home Test with us at Your Sexual Health?
We are adding many more clinics to our portfolio weekly, so keep an eye on new ones coming to the area.
Symptoms of STDs will vary between people and will vary with the type of STD you may have. Remember, some people with STDs will be asymptomatic, which is why you should get a full sexual health screening every six months. Some signs of an STD include: 
Pain whilst urinating

Unusual discharge from the penis or vagina

Painful sores or blisters around the genitals

For women, bleeding in between periods

Abdominal pain 
If you are unsure of which STD test to go for, get in touch with our friendly team who will be happy to advise on the next steps to take.
To ensure you aren't carrying any STDs, we'd recommend having a comprehensive sexual health screening every six months. However, you should get tested more regularly if: 
You've recently had unprotected sex with a new partner

You've slept with a sex worker

You are about to try for a baby or start IVF treatment

You are showing signs of carrying an STD (such as the ones mentioned above)
Every STD test requires a certain amount of time to pass before it offers completely accurate results. This is because the bacteria need to multiply to a detectable level or your body needs to produce an immune response to be accurate.
This is known as the 'window period for testing' and the period can be different for each test. This is displayed on our tests as 'accuracy from' and testing before this period of time can lead to false-negative results where you believe you're all clear, when in actual fact you have an STD. Never get tested before this period has passed.
STDs don't go away on their own, but luckily most STDs are curable with the right medication. However, there are a small number of STDs that are incurable and, once contracted,  will never go away. Hepatitis B, HIV and Herpes, and HPV are a few examples of these. Find out more about the treatment and incurable STDs in our recent blog post.
We aim to go above and beyond for each of the patients that visit our clinics. Here at Your Sexual Health, we offer:
Free GP Consultations – Unlike many other providers, we offer a free telephone consultation with a GP for any positive tests. This provides you with full effective care from start to finish. 

UKAS Accredited Lab – All of our laboratory tests, including our COVID-19 tests, are carried out at a UKAS accredited laboratory and are deemed safe to use by Public Health England.

Secure Online Portal – Our results are delivered on our secure online portal and you'll be the only person with access, delivering confidence and confidentiality throughout.

100+ Clinics Nationwide – We have over 100+ Clinics located nationwide and if we don't have a clinic near you, our

Postal Test Kits

can still provide fast and accurate results.
Book Your Private STD Test In Leicester