Rapid STD Testing in Liverpool
Your Sexual Health have a wide range of Rapid STD Tests available at our clinic locations across Liverpool and the North West. Get straightforward results against some of the most common sexually transmitted infections in under 30 minutes whilst you wait. Browse the tests available and choose a clinic that suits you.
Our Rapid STD Profile Tests allow you to diagnose multiple conditions on the same visit, offering you a comprehensive sexual health screening while you wait.
INDIVIDUAL RAPID STD TESTS
We recommend you take one of our Individual STD Tests if you believe you've come into contact with a particular condition and you need to test for infection urgently. Contact our customer services team for more information on  0161 660 2599.
RAPID STD CLINICS IN LIVERPOOL
Your Sexual Health have a private STD clinic in Liverpool as well as two other clinics close be, all offering Quick STD Tests. This enables you to get accurate results against a wide range of common conditions in under 30 minutes. Find out more about the clinics available and book your appointment today.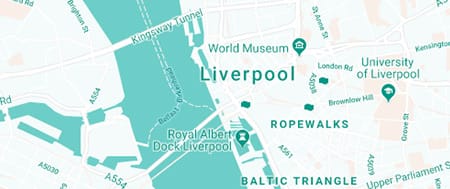 Liverpool
St Paul's Square, Liverpool. L3 9S
Good public transport
Our STD clinic in Liverpool is situated near to the Princess Docks in the Moorfields area of the city, situated in St. Paul's Square. Pay and display street side parking is available nearby on Earl Street for those visiting the clinic. The clinic is 15 minutes' walk away from Liverpool Central Station.
Newton-le-Willows
Belvedere Road, Newton-le-Willows. WA12 0JJ
Great availability

Good public transport

Evening & weekend appointments

Onsite parking
Our private STD clinic in Newton-le-Willows is located on the Belvedere Road and Crow Lane intersection. The clinic offers excellent access to testing for anyone living or working between Liverpool and Manchester. The clinic has its own large car park and is located just off the M6 at Junction 23.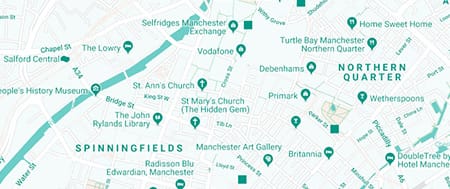 Manchester - Central
King Street, Manchester, M2 4PD
Great availability

Good public transport

Evening & weekend appointments
Our Manchester - Central clinic is on King Street and is easily accessible for those living or working in the city. There is street parking available along both sides of the road and in the surrounding area of the clinic, whilst we're just a short walk from Manchester's main transport hubs.
TAKE ADVANTAGE OF OUR QUICK & EASY RAPID STI TESTS
We offer a range of Rapid STI tests against a number of conditions, including HIV, chlamydia and gonorrhoea. Our Rapid STI Tests are available at 14 flagship clinics across the UK allowing you to get tested against the conditions that you're most concerned about with results in as little as 30 minutes.
Our Rapid STI Tests allow you to receive tests against all common sexually transmitted diseases and receive your results the very same day whilst you wait. With 14 clinics offering the service nationwide, our Rapid STI testing service is extremely convenient, ensuring that you receive accurate results and effective treatment without waiting any longer than you need to.
As part of our Rapid STI testing service, you'll also benefit from a free telephone GP consultation for all positive tests. This is arranged through our partner medical organisation in the event of a positive result so that you can get answers to any questions you may have about your condition. We also offer free confirmatory lab testing and a prescription service should it be required. Browse our range of tests below, discover how the service works or find out more by contacting our customer services team on 0161 660 2599.
1. Choose your Rapid STI test
Choose from our wide range of Rapid STI tests below, including our profile tests and our individual tests.
2. Choose your clinic and appointment time
Fill out the booking form on the next page which allows you to choose your most convenient clinic and an appointment time that suits you.

3. Make your payment
All of our debit and credit card payments are processed securely via PayPal and they'll show up on your bank statement using our more discreet "DB Services" payment name.

4. Visit the clinic
Visit the clinic and get your results in under an hour depending on the type of test you choose.