Sexual Health Clinics in Derby
We have three private sexual clinics based in and around Derby, offering several STD testing options for chlamydia, gonorrhoea, HIV, and more. Book an appointment at one of our clinics today for quick turnaround times and laboratory-quality results.
Find a Sexual Health Clinic in Derby
We have three sexual health clinics in Derby and Nottingham, all accessible via public transport, with evening and weekend appointments available. Browse our clinics below to find one nearest to you.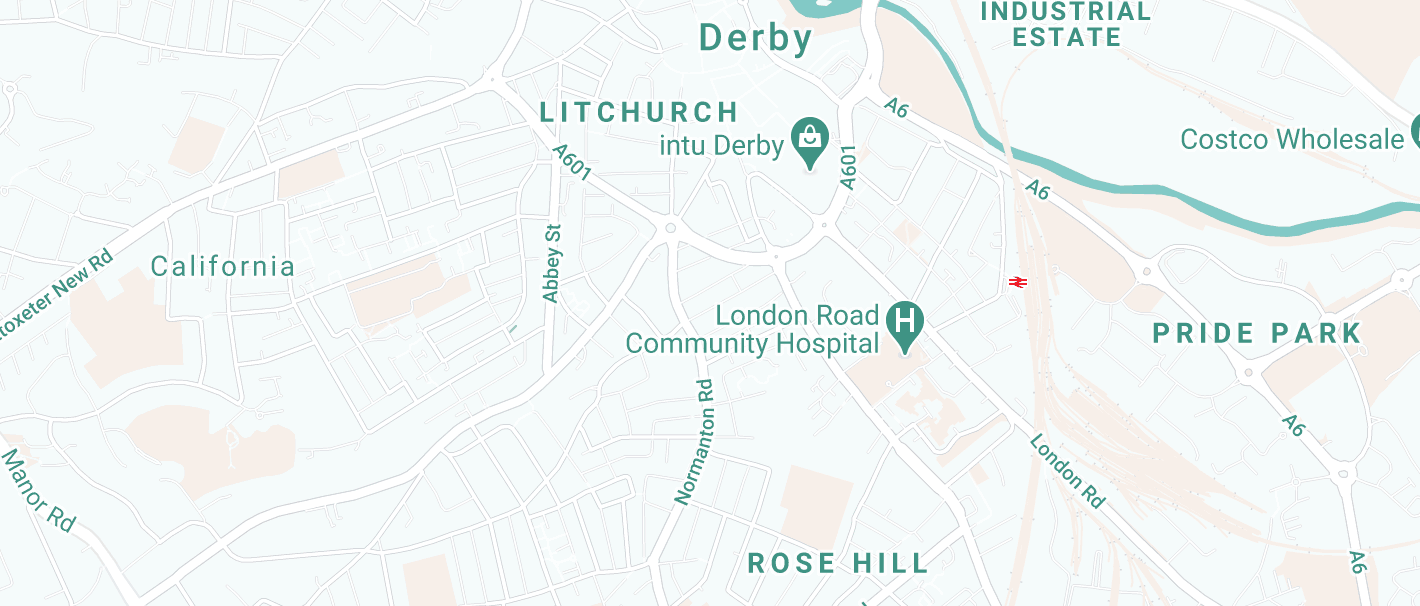 Derby
Charnwood Street, Derby. DE1 2GU
Great availability

Good public transport

Evening & weekend appointments
Our Derby sexual health clinic is based on Charnwood Street, south of the city centre and a 5 minute walk from intu Derby shopping centre. Located between Osmaston Rd and Normanton Rd, the clinic is a 0.6 mile walk or 5 min taxi ride from Derby train station.
Nottingham - Carrington
Cannon Street, Sherwood, Nottingham, NG52HB
Great availability

Good public transport

Onsite parking
Our private STI clinic in Nottingham is located on Mansfield Road. The clinic offers excellent access to private sexual health testing for anyone living and working in the city. The clinic is located 1.4 miles north of the city centre and is easily accessible via the A60 from the city centre.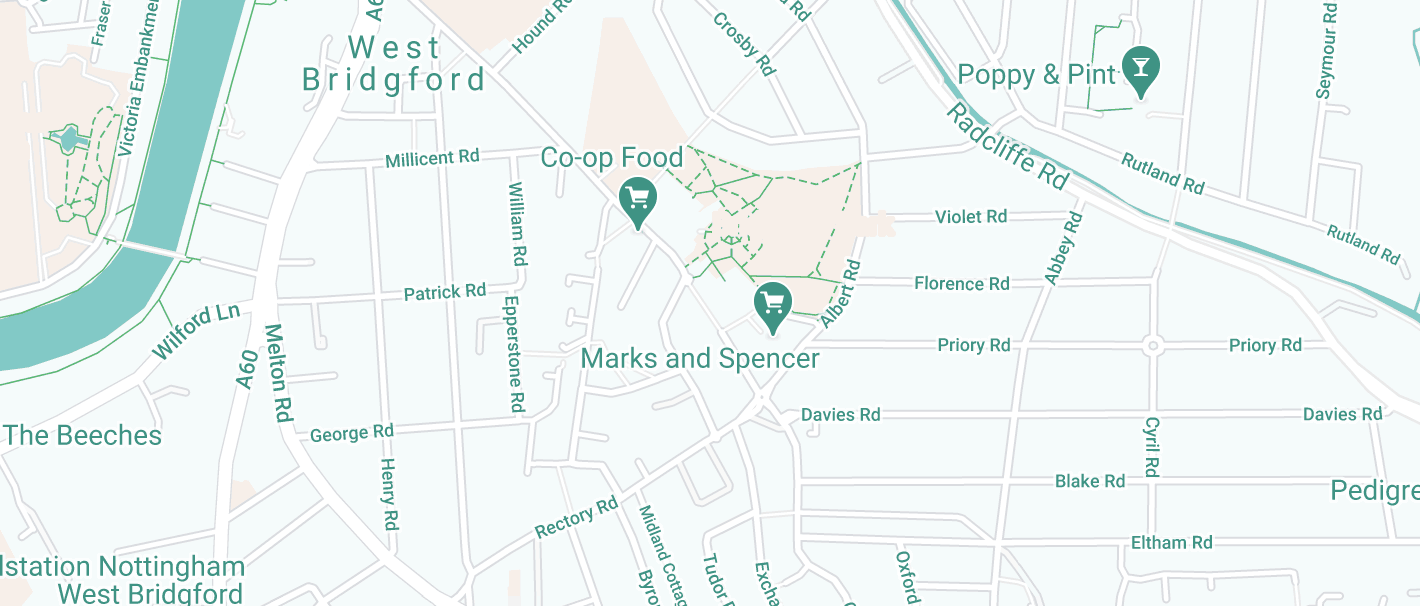 Nottingham
Rectory Road, West Bridgford, Nottingham. NG2 6FF
Great availability

Good public transport

Evening & weekend appointments
Our private sexual clinic in West Bridgford, Nottingham is based on Rectory Road. The clinic is a 5 minute walk south of Bridgford Park, opposite West Bridgford Police Station and is a 1.6 mile walk from the train station whilst having great bus links from city centre.
Sexual Health Tests Available at our Clinics in Derby
Our sexual health tests can quickly diagnose common STDs, such as chlamydia, gonorrhoea, and HIV, as well as STDs that the NHS may not test for, such as herpes, Gardnerella, and mycoplasma. If you are wanting test results on the same day as your clinic visit, browse our Instant Testing options, which can generate laboratory-grade results in under half an hour. View more of our STD tests below.
What to Expect at Our Sexual Health Clinics in Derby
Once you've booked your appointment at one of our Derby clinics at a time that suits you, simply show up at the correct time, and one of our friendly team members will greet you to take your samples. We do everything we can to ensure you feel comfortable throughout your visit. 
When your samples have been collected, we will send them to the nearest laboratory in Derby to get tested. We will notify you of your results either via a phone call or through the online portal. If your test returns a positive result, you'll be contacted by our medical partners, who will be able to prescribe treatment. 
Instant STD Tests in Derby
If you are keen to know the status of your sexual health results, you may want to opt for one of our Instant Tests. After your samples have been taken, you'll receive your results in under half an hour whilst you wait at our clinic. Our Instant Tests can test for chlamydia, gonorrhoea, HIV, syphilis, and herpes type I & II.
If you're still unsure about which test to get, or when you should get tested at one of our Derby clinics, get in touch with our team who will be happy to offer advice. For more sexual health information, view our commonly asked questions below, or browse our blog for industry content and health advice.
Each STD exhibits different symptoms and every person reacts differently, therefore there are no set symptoms that typify an infection. Some STDs may not present any symptoms, and therefore you may not know if you have one. The only way to know you are free of STDs for certain is to get a full sexual health screening. However, some common symptoms do include: 
Discharge from the penis, vagina or anus

Blisters, sores or rashes

Stomach pains in the lower abdomen

Pain or burning sensation whilst urinating

Blood in between periods for women
If you are currently experiencing any of these symptoms, or if something isn't feeling right, you should book an appointment at one of our sexual health clinics in Derby as soon as possible.
For accurate STD testing, you must wait a certain amount of time for the STD to reach detectable levels. This varies between STD types, with chlamydia, gonorrhoea, and syphilis tests being most accurate after two weeks, and HIV being most accurate after four weeks. Testing before this period has passed can lead to inaccurate results and false negatives where you believe you are clear, but you are positive.
Details of when you can take a test and gain accurate results can be seen on our STI Tests page. However, if you are experiencing any STD symptoms, we'd advise you to get tested straight away. Get in touch with our customer service team if you have any further questions on incubation periods and testing frequency.
The test that you require depends on your circumstances, with the time since your exposure and your required turnaround time being taken into account.
We have a Test Finder on our home page and All Tests page which will help you choose which test to take, or for a more detailed recommendation, you can speak to our friendly customer service team.
If your test returns a positive result for an STD, you will be contacted straight away by our team via a phone call or through our online portal. A telephone consultation with a GP will then be arranged at no extra cost to you. The GP will be able to talk to you about your result, and also advise on the best course of action to take to treat the STD. They will prescribe you medication should it be required. We're the only testing service in the UK to offer this level of aftercare.
Yes, we do! If our clinics are not easy to get to for you, or you prefer to be in the privacy of your own home, order one of our discreet Home Testing Kits. Simply order one to your chosen address, take your samples (instructions on how to do this are included), and drop it off at your nearest postbox with the prepaid packaging. You will receive your results within one week.
We keep any and all test results confidential at Your Sexual Health, and we don't even share the test with the NHS or anyone else unless you specifically request it and we have your permission.
Book Your Sexual Health Appointment in Derby & Nottingham
If you are based in Derby,  you will be able to schedule your sexual health appointment and select the most convenient clinic for you either in Derby or Nottingham. If you have any questions, please contact our customer service team for further information, they will be happy to assist you.