Sexual Health Clinics Stoke-on-Trent
We have three private sexual health clinics in Stoke-on-Trent, offering a range of testing options including comprehensive profiling, same day results, and much more. Simply book your appointment, and arrive at your chosen time to get your sample taken. Find out more about our clinics and testing options below.
Our Sexual Health Clinics in Stoke-on-Trent
Browse our range of private STD clinics located in Stoke and in the nearby cities below to find one closest to your location. Our clinics in Stoke are located in the city centre, Cannock, and Wilmslow. If you're unsure on how to get there, or a clinic visit isn't convenient for you, get in touch with our team who will be able to advise on the next best alternative.
Stoke-on-Trent
Etruria Office Village, Stoke-on-Trent. ST1 5RQ
Great availability

Good public transport

Evening & weekend appointments

Onsite parking
Our Stoke-on-Trent private sexual health clinic is based at Etruria Office Village on Forge Lane. It is north of the city and one minute drive off the A53 east of the the Queensway. The site is a 1.7 mile walk or 6 min taxi ride from train station and has onsite parking.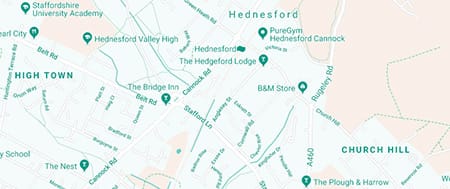 Cannock
Wolverhampton Road, Cannock, WS11 1AH
Good public transport
Our private clinic in Cannock is in the Rumer Hill area of the town, just a 20-minute bus ride away from Hednesford Train Station. It's a short drive from the A5 and M6 and with parking available nearby it provides excellent access for anyone arriving by road.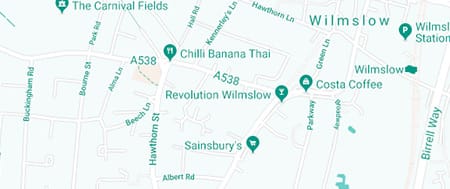 Wilmslow
Alderley Rd, Wilmslow. SK9 1NY
Great availability

Good public transport

Evening & weekend appointments

Onsite parking
Our Wilmslow clinic is a short walk from Wilmslow train station. Wilmslow is situated in Cheshire to the south of Manchester and Stockport and provides those who live outside Manchester City Centre a more accessible location.
Private STD Testing in Stoke
Your Sexual Health has a wide range of private sexual health tests available at our clinic location in Stoke and the surrounding area including our Comprehensive Profile tests, Instant Testing options, and tests for individual STDs. If you are after a test for more specific circumstances, view our full range of tests or use our test finder. 
What To Expect From Our Sexual Health Clinics in Stoke-on-Trent
Choose from one of our many test packages and pick an appointment time that suits you at your chosen clinic. All you have to do then is arrive at the clinic at your appointment time, to avoid waiting around. A friendly member of our team will greet you and collect your sample, which will be sent to the lab on the same day. You don't have to worry about anything from this point, as our team will take care of everything and notify you of the results as soon as we get them.
Instant STD Testing in Stoke
As well as our standard private STI tests, we also offer a wide range of instant STI tests that offer accurate results in under half an hour. Our instant tests come with the same discreet and confidential service and test against HIV, chlamydia, syphilis, gonorrhoea and herpes. These are our most convenient testing options.
Find out more about STD testing below, or if you want to find out more about our Sexual Health Clinics in Stoke-on-Trent and the surrounding areas, contact our customer services team by chat, phone, or email.
Book Your Sexual Health Clinic Appointment in Stoke-on-Trent
If you are based in Stoke-on-Trent or nearby areas,  you will be able to schedule your sexual health appointment and select the most convenient clinic for you either in Stoke or Staffordshire.  If you have any questions, please contact our customer service team for further information, they will be happy to assist you.